St. Matthias Orthodox Saint History and Name Day Information
Written by Greek Boston in Ancient Greek History, Greek Orthodox Religious Information Comments Off on St. Matthias Orthodox Saint History and Name Day Information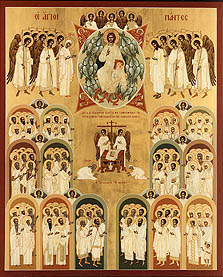 In the Orthodox Christian Church, Saint Matthias is considered to be one of the Twelve, which are the twelve apostles who were closest to Christ. However, he wasn't one of the original twelve. He came into the picture as one of the twelve when he replaced Judas Iscariot after Judas betrayed Jesus. Before replacing Judas, Matthias was considered to be one of the Seventy, which were followers of Christ whom He sent out into the world to preach. His name day is celebrated on August 9th and June 30th of each year. Here's more information about him:
Early Life of Saint Matthias
Apostle Matthias was born sometime in the First Century A.D. but historians are under debate exactly when his birthdate was. Since he became one of the Twelve Apostles after Judas betrayed Jesus, it is clear that he was alive when Jesus was. He was born in Judaea, which at the time was considered to be part of the Roman Empire. He learned about God from a very young age and was taught by Simeon the God-Receiver.
Matthias Follows Christ
Saint Matthias is known to have been an early follower of Christ. When Jesus revealed that he was the Messiah who had been preached about, Matthias instantly believed this to be the truth. Much of what we know about this time period actually came from the Book of Acts in the New Testament. It is said that he was a follower of Christ from around the time that John the Baptist baptized Jesus and he was actually present for this event. It is said that he was with Jesus until the Ascension when Christ's time on earth had come to an end.
There is a hymn that is dedicated to Saint Matthias that takes place during the Divine Liturgy. Here's a look at what is said about him:
From the Troparion (Tone 3)
O holy Apostle Matthias,
Pray to the merciful God,
That He may grant to our souls
Remission of our transgressions!
From the Kontakion (Tone 4)
O wonder-worker and Apostle Matthias,
Your words have gone out into all the world,
Enlightening men as the sun,
And giving grace to the Church
Bringing faith to heathen lands!
Later Years of Saint Matthias
After the Ascension of Christ, the Apostle Matthias built up his ministry and preached about Jesus Christ and the things that he had witnessed. His ministry is said to have taken him to the area around the Caspian Sea. Eventually, he is one of those who lost his life for his faith. His date of death is recorded as 80 A.D. and it is well established that he was martyred. The location of his death was under debate and may have been in Judaea, Jerusalem, or even in Colchis, which is located in the modern Republic of Georgia.
Saint Matthias' name day is celebrated on August 9th of each year. Visit the Name Day page for more information about other Orthodox Christian name days.
Sources:
Orthodox Wiki – Apostle Matthias
Source for Photo Credit for Image Above
Categorized in: Ancient Greek History, Greek Orthodox Religious Information
This post was written by Greek Boston