Orthodox Saint Agabus History and Name Day Information
Written by Greek Boston in Greek Orthodox Religious Information Comments Off on Orthodox Saint Agabus History and Name Day Information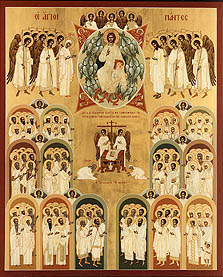 It's true that the saints are an important part of our history. They are also an integral part of our yearly church calendar. Most of the saints have their own, designated feast day. Both individuals and churches can also named after the saints, and those who are will celebrate their name days on the saints' feast days.
Saint Agabus is one of these saints and he is also one of the Seventy Apostles. His feast day is celebrated each year on April 8th. Here's more information:
About Saint Agabus
Saint Agabus, also known as the Apostle Agabus or the holy, glorious, all-laudable Apostle Agabus, is one of the early saints of the Orthodox Christian Church. He is one of the Seventy Apostles, which means that he is one of those individuals who was sent by Jesus Christ to spread the gospel and news that He is the Messiah. Jesus appointed the initial Twelve Apostles and then an additional Seventy. The role of the Seventy was to assist with spreading the gospel and to preach news of the gospel to people all over the world.
Not much is known about the Apostle Agabus's life but we do know enough about him to number him as one of the Seventy. The Apostle Paul mentions Agabus in his epistles, which is what helped to determine that he was one of the Seventy. He is also known for his gift of prophecy and he is said to have prophesied to Paul in Acts. Here's what he said:
One of them, named Agabus, stood up and through the Spirit predicted that a severe famine would spread over the entire Roman world. (This happened during the reign of Claudius.) – (Acts 11:28)
He is also mentioned in Acts as being one of the group of Apostles that traveled from Jerusalem to Antioch.
Hymns of Saint Saint Agabus
The Feast Day of Saint Agabus is on April 8th of each year, and he is also celebrated with the rest of the Seventy Apostles on January 4th. There are a collection of hymns that are sung or chanted on his designated feast day on April 8th. Here's a look:
Troparion (Tone 1) 
Let us praise in hymns the six–fold choir of Apostles:
Herodion and Agabus,
Rufus, Asyncritus, Phlegon and holy Hermes.
They ever entreat the Trinity for our souls!
Kontakion (Tone 2)
You became the disciples of Christ
And all-holy Apostles,
O glorious Herodion, Agabus and Rufus,
Asyncritus, Phlegon and Hermes.
Ever entreat the Lord
To grant forgiveness of transgressions
To us who sing your praises.
Kontakion (Tone 4)
Like stars, O holy Apostles,
You illumine the way of the faithful with the light of the Holy Spirit.
You dispel the darkness of error as you gaze on God the Word!
Saint Agabus, also known as the Apostle Agabus, is remembered each year on April 8th. Check the Name Day page for more information about other Orthodox Christian name days.
Sources:
Source for Photo Credit for Image Above
Categorized in: Greek Orthodox Religious Information
This post was written by Greek Boston