St. Bartholomew Orthodox Saint History and Name Day Information
Written by Greek Boston in Ancient Greek History, Greek Orthodox Religious Information Comments Off on St. Bartholomew Orthodox Saint History and Name Day Information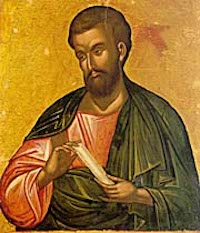 Saint Bartholomew, also known as the Apostle Bartholomew, was one of the Twelve Great Apostles and one of the original followers of Christ. He is mentioned in the New Testament in the Gospels as well as the Book of Acts. He actually has two feast days – one on June 11th and another on August 25th. Those who are named after this saint often celebrate both of these days.. Here's more information about the life of this saint:
Early Life of Saint Bartholomew
The exact birth date of the Apostle Bartholomew is unknown, but it is well understood that he was born sometime in the first century A.D. Since he was mentioned in the New Testament, we also know that he was alive at the same time Jesus was and that he was present for many of the key moments in the Bible and of Jesus's life. He was born in a place called Cana, which was in Judaea in the Roman Empire.
Bartholomew Follows Christ
When mentioned in the Bible, Bartholomew is often mentioned in the same breath is Barnabas, who was also n of the Apostles. In fact, they are even mentioned together in a hymn that is sung during the Orthodox Christian church service. After the Ascension of Christ, Bartholomew began his work and started to preach in Asia in places like India and Armenia. His sister, Mariamma, the Apostle John, and the Apostle Philip, joined him while he preached.
Bartholomew was eventually martyred in Armenia while he was preaching. At some point before he lost his life, he was crucified hanging upside down by the legs. He was removed from the cross while he was still alive. He and Philip were both crucified at the same time because they caused the death of a serpent that the people of Hieropolis worshipped. Philip died while being crucified, but after an earthquake, Bartholomew was removed from the cross. He was able to move on to India and then Armenia. He eventually lost his life in Armenia.
Hymns Mentioning Saint Bartholomew
Saint Bartholomew is mentioned, along with Barnabas, in some of the hymns in the Orthodox Christian church service.
Troparion (Tone 3)
Holy Apostles Bartholomew and Barnabas,
entreat the merciful God
to grant our souls forgiveness of transgressions.
Kontakion (Tone 4)
You have appeared to the universe as a great sun,
shining with the radiance of your teachings and awesome miracles.
You enlighten those who honor you, apostle of the Lord, Bartholomew.
Saint Bartholomew has two feast days – one on June 11th with Saint Barnabas and one on August 25th. Visit the Name Day page for more information about other Orthodox Christian name days.
Sources:
Orthodox Wiki – Apostle Bartholomew (Also Source for Photo Credit for Image Above)
Wikipedia – Bartholomew the Apostle
Categorized in: Ancient Greek History, Greek Orthodox Religious Information
This post was written by Greek Boston