Saint Irene Chrysovalantou Orthodox Saint History and Name Day Information
Written by Greek Boston in Ancient Greek History, Greek Orthodox Religious Information Comments Off on Saint Irene Chrysovalantou Orthodox Saint History and Name Day Information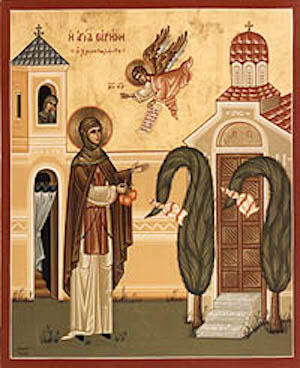 The saints are an important part of the Orthodox Christian Church, and their lives are celebrated throughout the year. Many of the saints were alive during the early days of Christian Church. However, not all of them were alive during the early days.
Irene Chrysovalantou is one of those saints who was alive several hundred years after the early days. She definitely made a positive impact on Christianity. Her feast day is on July 28th of each year. Here's more information about her:
About Saint Irene Chrysovalantou
Irene Chrysovalantou, also known as Irene Chrysovalantou the Wonderworker, Saint Irene Chrysovalantou, and the venerable Irene Chrysovalantou, was alive in the 9th Century AD. She was most known for being the abbess at the Monastery of Chrysovalantou. In her early life, she was promised to the Emperor Michael in marriage. Instead of allow her life to go in that direction, she decided to serve the Lord instead. She had many spiritual gifts and performed many good works for Christ.
Irene was originally born in Cappadocia. Her family was wealthy and aristocratic and this is how she came to be engaged to the emperor. Irene's sister married Vardas, the brother of the Empress Theodora, who brought icons back into the Orthodox Christian Church.
On a journey to Constantinople, Irene asked to speak to a recluse named Ioannikos. He had a vision that foresaw how important Irene would be to the church. He said, "Welcome Irene, Servant of God. Proceed to the Imperial City in joy because the convent of Chrysovalantou needs you in the community." Irene ultimately decided to heed this vision and she devoted her life to the monastery.
After performing many miracles and living a life in prayer serving the Lord, Saint Irene passed away
Hymns of Saint Irene Chrysovalantou
Saint Irene Chrysovalantou's feast day is held on July 28th of each year. Here are the hymns that are sung on this day after they had been translated into English. 
Apolytikion in the Plagal of Tone One (Tone 5)
modeled on 'Ton Synarnarhon Logon (Co-eternal with the Father)'
Not a temporal kingdom on earth didst thou obtain,
but Christ, thy most comely Bridegroom, vouchsafed thee heavenly crowns,
and thou reignest as a queen with Him eternally;
for thou didst dedicate thyself unto Him with all thy soul,
O Irene, our righteous Mother,
thou boast of Chrysovalantou, and mighty help of all the Orthodox.
Kontakion in Tone Three
modeled on 'I Parthenou Simeron (Today the Virgin)'
Leaving all the world behind with its impermanent glory,
thou wast wedded unto Christ, the King immortal and holy,
bringing Him as precious dowry thy maiden beauty
and thy trophies won through abstinence over demons.
O Irene, our righteous Mother, entreat thy Bridegroom to show His mercy to us.
Saint Irene Chrysovalantou is one of the saints of the Orthodox Christian Church. Her feast day is on July 28th of each year.  Check the Name Day page for more information about other Orthodox Christian name days.
Source:
Irene Chrysovalantou – OrthodoxWiki – Also Source for Image Above
Categorized in: Ancient Greek History, Greek Orthodox Religious Information
This post was written by Greek Boston