St. Lazarus Orthodox Saint History and Name Day Information
Written by Greek Boston in Greek Orthodox Religious Information Comments Off on St. Lazarus Orthodox Saint History and Name Day Information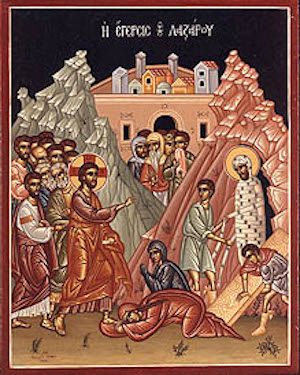 Lazarus is not only one of the saints in the Orthodox Christian Church, but he was also considered to be on of Jesus's friends. He plays an important role in the church since Jesus actually brought him back from the dead. He is mentioned in the Bible in the New Testament. 
As a result, he is commemorated on two separate days. The first is on Lazarus Saturday, which takes place on the Saturday before Palm Sunday. He is also celebrated on March 17th, which is his official feast day. Here is more information about him:
About Saint Lazarus
Much of Lazarus's story is chronicled in the New Testament. In the Gospel of John, we know that he came from a town named Bethany, which was outside of Jerusalem. He has two sisters named Mary and Martha, and they were also mentioned in the gospels. Jesus had a close relationship with Mary, Martha, and Lazarus.
While Jesus was on his way to Jerusalem, Lazarus became very ill. Martha and Mary sent word to Jesus that his friend was sick, and when Jesus arrived, it looked as if he was too late. Lazarus had passed away four days prior and was already buried in his tomb. When Jesus arrived at Lazarus's tomb, he ordered that the stones be rolled away. Once they were, he told Lazarus to come forward. Still wrapped in his bandages, he emerged from the tomb. Because of this event, what we now refer to as the "Raising of Lazarus", many people came to believe that Jesus was the Messiah.
Hymns of Saint Lazarus
Saint Lazarus has some hymns that are usually sung or chanted during his feast day on March 17th and again on Lazarus Saturday, which takes place the day before Palm Sunday on Holy Week. . The words of the hymn can be found in many languages, including Greek. Here are the words as they have been translated into English:
Apolytikion of Lazarus Saturday – First Tone
O Christ our God, before Your Passion, You raised Lazarus from the dead to confirm the common Resurrection for all. Therefore, we carry the symbols of victory as did the youths, and we cry out to You, the victor over death, "Hosanna in the highest. Blessed is He who comes in the name of the Lord. "
Kontakion of Lazarus Saturday – Second Tone
Christ, everyone's joy, the truth, the light, life, the resurrection of the world, has by His goodness appeared to those on earth. He is the archetype of the resurrection, granting divine forgiveness to all.
As you can see, Lazarus is important to church history, and he was also important to Christ because he considered him to be a friend.  Check the Name Day page for more information about other Orthodox Christian name days.
Source:
OrthodoxWiki – Lazarus – Also Source for Image
OrthodoxWiki – Lazarus Saturday
Categorized in: Greek Orthodox Religious Information
This post was written by Greek Boston