Saint Methodius Orthodox Saint History and Name Day Information
Written by Greek Boston in Ancient Greek History, Greek Orthodox Religious Information Comments Off on Saint Methodius Orthodox Saint History and Name Day Information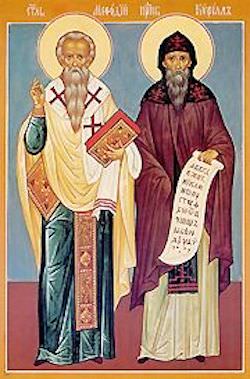 The saints of the Orthodox Christian Church have all played a role in the development of the church. They're so important that their lives are celebrated throughout the year. Known as feast days, these days are a chance for Orthodox Christians to honor them and learn about their lives.
Saint Methodius is one of these saints. He is celebrated alongside his brother, Saint Cyril. His name day is on May 11th of each year. Here's more information:
About Saint Methodius
Saint Methodius was born in the 9th Century in Thessaloniki, which is in Greece. Born into a wealthy family, his mother was actually a Slav. Thus, Methodius was proficient in multiple languages, including Greek and Slavic. The exact year of his birth isn't quite known, but it is believed that he was born in 827 AD. The entire family was well educated. 
Their father, Leon, held an official position in the Roman Empire. However, their father died while the brothers were still very young. As a result of this, Methodius and Cyril were actually raised by their uncle, Theoctistos. The uncle held an important role int he Byzantine Empire. Among other things, he was responsible for the postal service. Because of his job, Methodius and Cyril were raised in privilege and as a result, he had plenty of opportunities to further his education. He eventually found himself in Constantinople where he was ordained as a deacon.
The two brothers devoted their lives to the church. Eventually, Prince Rastislav of Great Moravia invited them their to preach about Christianity. They devoted themselves to spreading Christianity to this part of the world for the rest of their lives. They even developed an alphabet for the Slavic language. Saint Methodius died on April 6th, 885 AD.
Hymns of Saint Methodius
Saint Methodius's feast day is on May 11th of each year. He shares this day with his brother Saint Cyril. They also share the hymns that are sung on this day:
Troparion – Tone 4
O Cyril and Methodius, inspired by God,
You became equal to the Apostles by your life.
Since you were teachers of the Slavs,
Intercede with the Master of all
That He may strengthen all Orthodox peoples in the True Faith,
And that He may grant peace to the world
And great mercy to our souls.
Kontakion – Tone 3
Let us praise the two priests of God who enlightened us,
And poured upon us the fount of the knowledge of God by translating the Holy Scripture.
O Cyril and Methodius, as abundant learning has been drawn from this work,
We exalt you who now stand before the Most High,
Interceding with fervor for the salvation of our souls.
Saint Methodius is an early saint who played an important part in the development of Christianity in certain parts of the world. He shares the feast day with his brother, Saint Cyril. Their feast day is on May 11th of each year.  Check the Name Day page for more information about other Orthodox Christian name days.
Source:
Cyril and Methodius – Also Source for Image Above
Categorized in: Ancient Greek History, Greek Orthodox Religious Information
This post was written by Greek Boston