Orthodox Saint Sosthenes History and Name Day Information
Written by Greek Boston in Ancient Greek History, Greek Orthodox Religious Information Comments Off on Orthodox Saint Sosthenes History and Name Day Information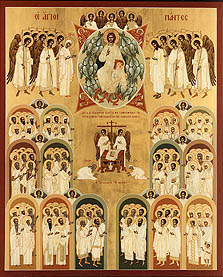 The saints are an important part of Orthodox Christianity. People are often named after saints and when they are, they celebrate the saint's feast day as their name day. There were many saints who were alive in the early days of the church, and some were even present during the time when Jesus Christ walked the earth.
Saint Sosthenes is one of these saints. He is considered to be one of the Seventy Apostles who were, in addition to the Twelve Apostles, those who were entrusted by the Lord to establish the Church. His feast day is on March 30th and December 8th of each year along with a few other of the Seventy Apostles, such as Saints Apollos, Cephas, Caesar, and Epaphroditus and he is also celebrated on January 4th with the rest of the Seventy Apostles. Here's more information about Saint Sosthenes, who is one of the Seventy Apostles:
About Saint Sosthenes
Not much is known about the life of Saint Sosthens except the fact that he was considered to be one of the Seventy Apostles. We don't know when he was born or exactly when he died, but we do know enough about his life to consider him to be one of the saints.
However, what we do know about him is interesting. He was mentioned in the Bible in the Book of Acts because he was actually the head of the synagogue that was in Corinth. Rather than continue his work at the synagogue, however, we know that he felt called to convert to Christianity and become a follower of Jesus Christ. Saint Paul is the one who converted him to Christianity and at some point, Sosthenes was beaten during a riot that was targeted against Paul.
Scholars are under debate about whether or not the story of how he was converted to Christianity was true. Since he is considered to be one of the Seventy Apostles, tradition indicates that he would have to have been a Christian long before Saint Paul went to Corinth. The Seventy were commissioned by Christ himself to travel the world and spread news that Christ was the Messiah.
Hymns of Saint Sosthenes
There are some hymns that can be found in the Orthodox Christian church service that celebrate Saint Sosthenes. The hymn is typically sung on his feast day. Here are the details:
Troparion (Tone 3)
Holy apostle Sosthenes of the Seventy;
Entreat the merciful;
To grant our souls forgiveness of transgressions.
Kontakion (Tone 4)
The Church ever sees you as a shining star, O apostle Sosthenes,
Your miracles have manifested great enlightenment.
Therefore we cry out to Christ:
"Save those who with faith honor Your apostle, O Most Merciful One."
Saint Sosthenes's name day is on January 22nd of each year. Check the Name Day page for more information about other Orthodox Christian name days.
Sources:
Orthodox Wiki – Seventy Apostles
Orthodox Wiki – Apostle Sosthenes
Source for Photo Credit for Image Above
Categorized in: Ancient Greek History, Greek Orthodox Religious Information
This post was written by Greek Boston