About Syvota, Greece
Syvota is a village in Thesprotia, Epirus, Greece. The beautiful green trees and blue water, make this one of the most exotic destinations in Greece.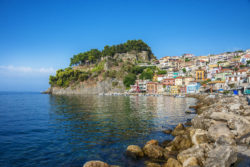 There are long beaches and secret coves all waiting to be explored.
The earliest known inhabitants were the Thesprotians, a Greek tribe of Epirus. One of the earliest mentions of Syvota is as the site of a major naval battle in the Pelopennesian War in 433 BC.
The area was called Sybota at the time and was the site of the Battle of Sybota. The battle was between Corinth and Corcyra and would be called the largest naval battle up until that time by Thucydides. In the end, 70 Corcyrians and 30 Corinthians triremes (ancient Greek war galley with three banks of oars) would be sunk in the sea.
During the Middle Ages, Syvota was part of the Byzantine Empire and the Despotate of Epirus, along with the rest of Epirus. In 1913, Ottoman rule of Syvota ended after 500 years. During the Ottoman rule, the village was known as Mourtos. Then until 1944, when they were expelled for collaborating with the Axis Powers, the village of Syvota was home to Cham Albanians (a sub-group of Albanians).
Syvota isn't large, so getting around is easily done by walking. If you want to visit surrounding islands or more remote beaches, you can hire a boat or boat taxi, which sailed around the village. A few of its stop include the harbour, the Blue Lagoon, and the Neilson Resort.
Administrative Region for Syvota, Greece
Epirus
Area of Syvota, Greece
72.4 km2 (28.0 sq mi)
Population of Syvota, Greece
Municipal Unit: 2,640
Community Population: 875
Top Attractions of Syvota, Greece
Bella Vraka Beach – A small beach on the islet of Mourtemeno. Access to the beach is gained by walking a thin strip of sand. The small beach is popular, but can get crowded.
Mega Ammos Beach – This beach is organized with umbrellas and sun beds. There are restaurants nearby. Mega Ammos Beach has white pebbles and turquoise waters.
Vikos-Aoos National Park – This park contains lakes, rivers, canyons, and dense forest. At the rivers you can go kayaking or rafting. The Vikos Gorge is one of the deepest in the world and filled with wildlife.
Syvota Islands – Off the coast of Syvota, there are three exotic islands, each with their own beautiful beach. Experience these islands by taking a boat from the mainland. On Mavro Oros island you can visit the great sea cave.
Karvouna Beach – A nice small beach with food and drink service. There are sun beds and umbrellas available. The beach is sandy and good for swimming.
BELOW ARE INTERESTING ARTICLES ABOUT PELION SYVOTA, GREECE: