About the Agios Konstantinos Beach in Astypalaia
Written by Greek Boston in About Astypalaia, Greece, Greek Travel Guide Comments Off on About the Agios Konstantinos Beach in Astypalaia
The sparkling blue sea, white sand, and clean air are only a few of the reasons to visit Agios Konstantinos Beach in Astypalaia, Greece. Located on an island off the coast of mainland Greece, this is a perfectplace for visitors looking to relax or explore. There are many activities that can be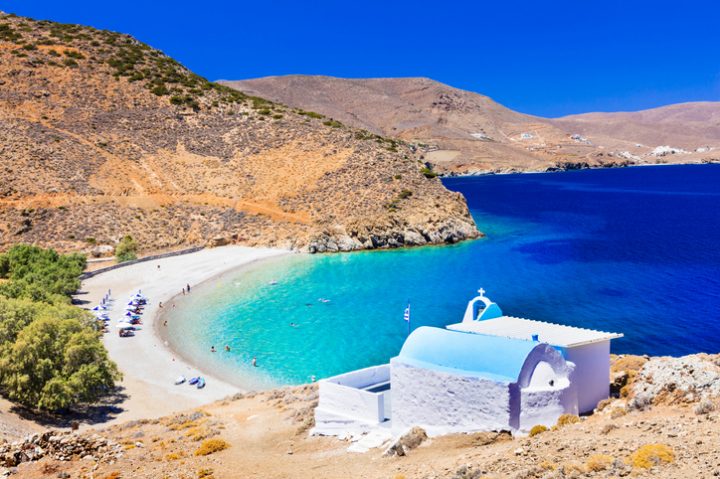 done while visiting this area including scuba diving, hiking through the hillsides with panoramic views of the coastline, and exploring ancient ruins before returning back to your hotel room.
About Agios Konstantinos Beach
Famous for its crystal-clear waters, Agios Konstantinos Beach is an excellent place to witness the many creatures that live in the sea. Dive in the water and catch a tan on Agios Konstantinos Beach's long stretch of white sand. Located on the Greek island of Astypalaia, this beach is perfect for relaxing after a day of exploring the area's many attractions.
Agios Konstantinos is a pebbled beach with clear waters. The length of the natural beaches found in Astypalaia varies from one to two kilometers and they are very clean.
Some of these beaches even have sand bars at low tide, where one can walk out to the island just off the coast and relax on sunny beaches that are only accessible by boat at high tide. Known for its lush green landscape, Astypalaia is the perfect place to relax and spend time outdoors. Visitors can hike along trails that lead up into hillsides or explore ancient ruins before returning back to their hotel room at Agios Konstantinos Beach.
What to Do At Agios Konstantinos Beach
Scuba diving is a popular activity at Agios Konstantinos Beach. Hiking through the hillsides and visiting ancient ruins are also great ways to spend time during your visit.
Eating local Greek meals made with fresh ingredients from local markets allows visitors to experience authentic cuisine. Visitors can dine at the beachfront restaurants or choose to prepare a meal in their hotel rooms.
Restaurants located near Agios Konstantinos Beach include Ionian Pearl, Marina Restaurant, and the Sunset.
Getting to Agios Konstantinos Beach
Astypalaia is an island located off the coast of mainland Greece near Athens. Visitors can fly into Athens and take a ferry to Astypalaia. Once on the island, it is only a short drive from Agios Konstantinos Beach back up to their hotel room or other activities that they would like to do during their visit.
Agios Konstantinos Beach is best visited during the summer months of June through September when temperatures range from 70 degrees Fahrenheit on average in July and August up to 80 degrees Fahrenheit in July.
Visitors are advised to bring their swimsuit, sunscreen, sunglasses, comfortable clothes for exploring the island, and a hat. For those traveling with children, it is advised to bring life jackets for swimming as well.
The beaches are also less crowded during this time of year making it easier to get the experience you want out of your visit. This is definitely a place you should explor while in Astypalaia!
PLEASE NOTE: The Greek travel section at GreekBoston.com are not paid reviews. Our unbiased and informative travel articles are designed review the popular cities, islands and places in Greece. We are not always able to exactly match the photos to the destinations, but we do try to get close. However, we are not looking for photo submissions at this time. If you find something in a Greek travel article that is not accurate based on your personal experience, please send us an email to greekboston@worldwidegreeks.com and we will consider your suggestions. Thanks for reading the travel section at GreekBoston.com!
Categorized in: About Astypalaia, Greece, Greek Travel Guide
This post was written by Greek Boston
Share this Greek Travel Article: