Attractions to Visit in Sparta, Greece
Written by GreekBoston.com in About Sparta, Greece, Greek Travel Guide Comments Off on Attractions to Visit in Sparta, Greece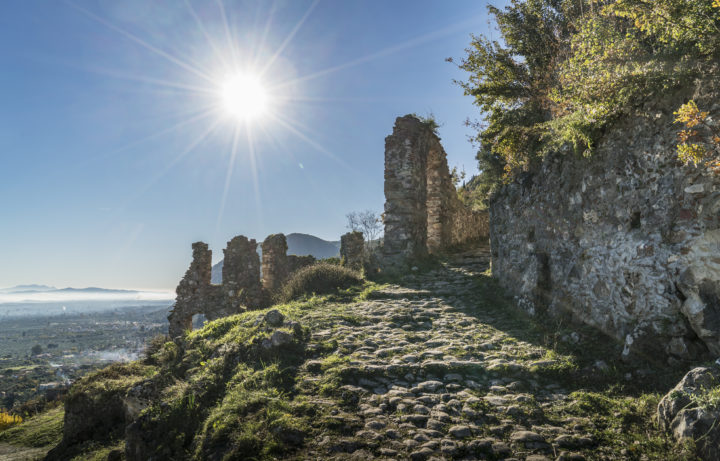 Sparta, Greece is a town and municipality in Laconcia, Greece. Sparta was a warrior society in ancient Greece that defeated rival city-state Athens in the Peloponnesian War of 431 – 404 BC. Spartan culture was based on its loyalty to the state and military service. Sparta is the ideal destination for anyone who thrives on learning about history and exploring ancient sites.
Archaeological Museum of Sparta
The Archaeological Museum of Sparta houses thousands of finds from the ancient Acropolis of Sparta and from the municipality of Laconia. It is the oldest provincial archaeological museum in Greece. The neoclassical building it is housed in was constructed between 1874 – 1876. The museum is in the center of the city. Finds housed at the museum range from the Mycenaean to the Roman period.
When you visit the Archaeological Museum of Sparta, some of the exhibits you will see include: Palatial-style amphoras from the Mycenaean cemetery; clay masks from the 7th – 6th centuries BC; a statue of a spartan warrior, also known as Leonidas; and mosaics from the Hellenistic and Roman times that bear mythological scenes including the abduction of Europe by Zeus.
Acropolis and Ancient Theater
The Acropolis and Ancient Theater in Sparta, Greece are a must-see when you are visiting. The Ancient Theater is found at the south side of the Acropolis. You can see the few surviving relics at the spot where the Temple of Athena Chalkioikos is located. The temple had an interior that was designed with copper sheets. The name Chalkioikos means copper.
The Ancient Theater was built during the early Imperial Period. The concave part of the theater, the orchestra, and the retaining wall have been preserved. The marble retaining wall was engraved during the 2nd century AD. Close to the theater are remains of merchant stalls that were built with brick and the interiors were decorated with mortar or plaster. These stalls served the audiences during performances and other events that took place at the theater. There is plenty to explore when you visit the Acropolis and Ancient Theater.
Museum of the Olive and Greek Olive Oil
When visiting Sparta, Greece, you might enjoy the Museum of the Olive and Greek Olive Oil. There are many interesting exhibits including rare fossilized leaves that are 50 – 60,000 years old and come from the island of Santorini. There are also Linear B tablets that date back to the 14th century.These tablets have provided important information about the history of olives and olive oil.
The ground floor of the Museum of the Olive and Greek Olive Oil focuses on the evolution of olive-oil production from the post-Byzantine era through the first part of the 20th century. There is also an outdoor exhibition area that has displays that relate to olive cultivation and harvesting. There are reconstructed olive presses from the prehistoric, Hellenistic, Byzantine eras.
Visit Sparta, Greece if you want to explore the history of the area through its ancient sites and museums.
Categorized in: About Sparta, Greece, Greek Travel Guide
This post was written by GreekBoston.com
Like this article? Please share below: