5 Best Places to Experience the Beauty of Zakynthos
Written by GreekBoston.com in About Zakynthos, Greece, Greek Travel Guide Comments Off on 5 Best Places to Experience the Beauty of Zakynthos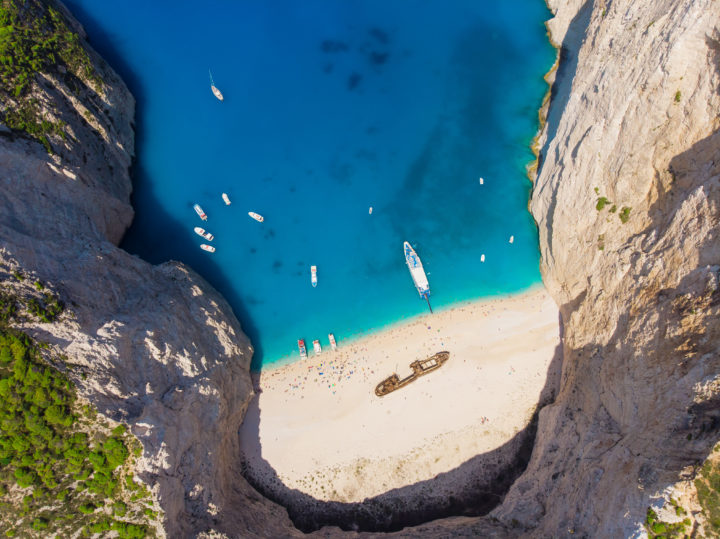 The Greek island if Zakynthos is known for its natural beauty. Sure, there are plenty of beaches on this island to enjoy the scenery. However, there are also other sites to see that will capture your attention because the represent the essence of the island.
Here's a look at some of the natural sites you can see while visiting this island:
The Blue Caves are one of the must-see places on Zakynthos. Known for its haunting beauty, these caves represent the best that this island has to offer. The caves are actually named for the color of the water near the caves, not for the caves themselves. The contrast between the light color of the caves and the blue of the sea is absolutely stunning. To visit the caves, you can only access them by sea. It is best to hire a guide to take you there.
There is a small island off the coast Zakynthos where the sea turtles live. This is their habitat, and if you want to experience these turtles, you should head to this island. Once you arrive, you might even have the opportunity to swim right alongside beside them. Besides that, there are other things to do on this island, such as eat a great meal or experience some of the nightlife.This island is also called Marathonisi Islet and is located near Laganas Bay. It is nicknamed "Turtle Island" because of the prevalence of sea turtles there.
The Venetian Bridge is manmade, but it is no less beautiful or interesting. Part of the intrigue of this bridge is the way it melds with the landscape. Not only is it stunning, but it is also an important part of history. The bridge itself is located at Argassi Beach, which is one of the most stunning beaches on the island. While visiting the bridge, you should take the time to lounge on the beach itself!
Keri Caves are another place you simply must visit while on the Greek island of Zakynthos. These caves are similar to the blue caves in that they are located right by the sea. In fact, these caves also can only be accessed from the water, so it is best to hire a guide to take care of bringing you there. Most tour excursions will also include private boat transportation to the caves themselves.
Although the Vrysakia Aqueduct is another man made wonder, it is still absolutely stunning. This complex engineering marvel is filled with archways and pipes and is designed to store and transport water. It was made in between 1805 and 1806 and is a part of the history of Zakynthos, as well as Greece as a whole. You won't want to miss seeing this!
Because the island is so filled with beautiful, natural sites to see, it stands to reason that you can also enjoy some outdoor sports. For example, at Laganas, you'll have more fun on that island if you know how to swim so that you could properly interact with the
Categorized in: About Zakynthos, Greece, Greek Travel Guide
This post was written by GreekBoston.com
Like this article? Please share below: