Best Places to Enjoy Wine in Greece
Written by Greek Boston in Greek Travel Guide Comments Off on Best Places to Enjoy Wine in Greece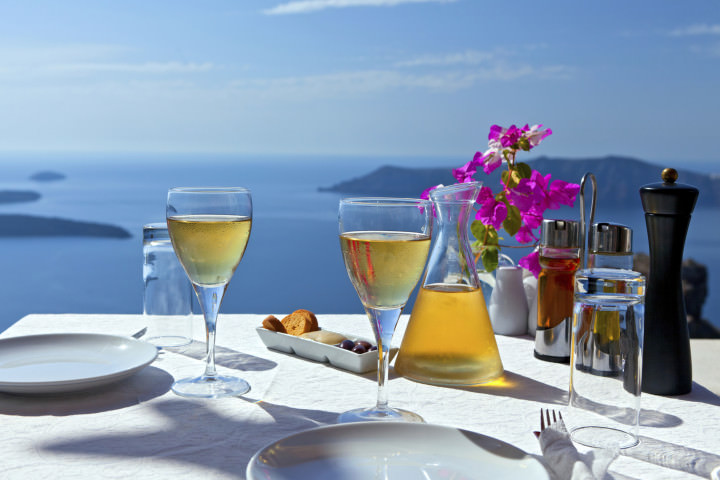 Greece was one of the first places to start producing wine in the ancient world. It was a natural fit since grapes grow so well in the climate. Evidence of wine production is present in many archaeological sites throughout Greece. Wine has been produced in the country ever since then. However, in modern times, Greece never got the recognition that other wine regions in the world have gotten. This is changing as more and more people realize that Greek wines are on par with anything else that you can find in the world.
Because of this, it stands to reason that you will want to try some wines while you are in the country. Here is a roundup of the best places in Greece to sample wines, and maybe even bring some home after your trip!
Santorini is an interesting island to visit because the geography is so unique. The island is actually a volcano, and it has an interesting shape because of a cataclysmic eruption that happened thousands of years ago, which caused the center of the island to collapse into the sea. The volcanic activity also shapes the crops that are grown here because the soil gives them interesting characteristics. This includes grapes, which are essential for the island's wine. The wineries here are definitely worth a visit.
If you are looking for a great island to visit, Paros should be on your radar. The island is up and coming so it does attract some tourists, but they don't get the same volume that some of the other places in Greece, like Santorini, do. The island is home to the Malvasia grape varietal, which makes for some interesting wine choices. There are wineries here to visit that feature this grape, as well as some others that grow well on the island.
Mykonos is one of those islands that has it all. There are some great beaches here, an excellent nightlife, but the island is also family friendly. No matter what kind of Greek vacation you want, Mykonos has something for you. There are also some great wineries made from local grape varietals here, and you can easily spend at least some of your time tasting what the island has to offer.
The Peloponnese in Greece is known for its many wineries, and many of them appear to be concentrated in the Nemea area. Wine lovers from all over the world flock here to taste the wines, and there are organized wine tours that feature this region. It is also one of the oldest wine regions in Greece, as wine has been produced here for thousands of years.
Crete is one of those islands that has it all. There is breathtaking scenery, a wealth of outdoor activities to enjoy, gorgeous beaches, landmarks, museums, shopping, and nightlife. There is also a great wine culture, and the wines that are found here are some of the best that Greece has to offer. Try the house wine at a taverna. Sample wine at one of the wineries. Many Cretans even make their own, so if you know people on the island chances are you'll end up drinking their wine at some point. The growing conditions here are perfect for many grape varietals and there is evidence that wine has been produced here since the Minoans.
While in Greece, you will want to take the time to sample some wine, especially if you find yourself in any of these top wine areas.
PLEASE NOTE: The Greek travel section at GreekBoston.com are not paid reviews. Our unbiased and informative travel articles are designed review the popular cities, islands and places in Greece. We are not always able to exactly match the photos to the destinations, but we do try to get close. However, we are not looking for photo submissions at this time. If you find something in a Greek travel article that is not accurate based on your personal experience, please send us an email to greekboston@worldwidegreeks.com and we will consider your suggestions. Thanks for reading the travel section at GreekBoston.com!
Categorized in: Greek Travel Guide
This post was written by Greek Boston
Share this Greek Travel Article: