Visit these Monasteries in Naxos, Greece
Written by GreekBoston.com in About Naxos, Greece, Greek Travel Guide Comments Off on Visit these Monasteries in Naxos, Greece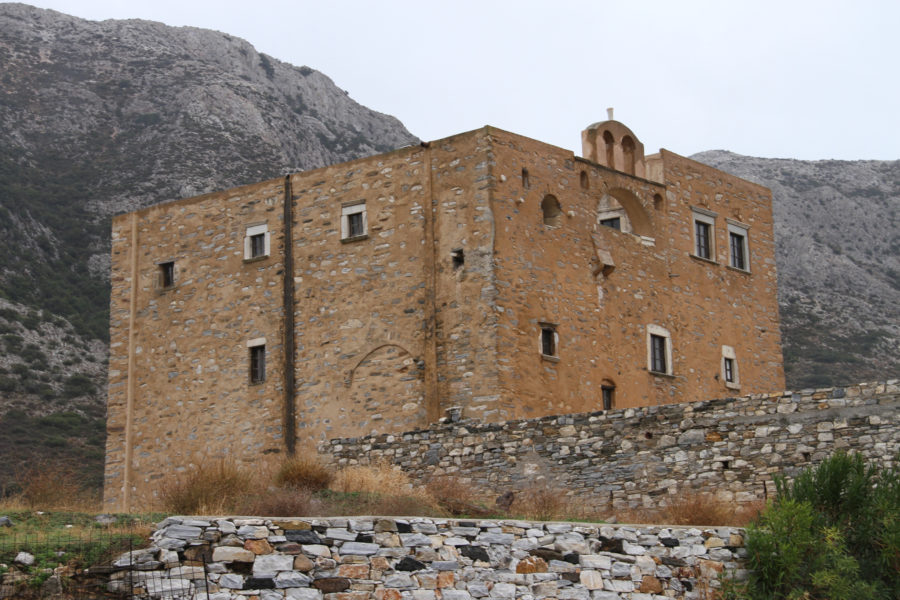 The Greek island of Naxos is located in South Aegean Sea. The landscape of the island consists of ancient ruins, long beaches, mountains, and villages with whitewashed houses and Venetian mansions. The history and beauty of the island combines to create an amazing experience. Part of Naxos' history and charm is found in the many monasteries on the island. If you get a chance, you will want to visit a few of them.
Monastery of Timios Stavros
The Monastery of Timios Stavros (meaning True Cross) is located in the valley of Agiassos just outside the village of Sagri. This fortified monastery was built around 1600 and is considered an important monument in Naxos. The monastery was abandoned in the 19th century after the last group of monks who resided there left. The Monastery of Timios Stavros is also known as Vazeos Tower. The castle was bought by the Bazeos family whose descendants are still the owners. Today, the monastery is used for cultural events.
Monastery of Christ Photodoti
The Monastery of Christ Photodoti is another important monument in Naxos. This fortified monastery is the oldest on the island of Naxos and was built on the ruins of a 6th century basilica about 300 years later. The monastery is located north of Danakos at an altitude of 500 meters. The location, as you might imagine, offers a wonderful view of the Aegean Sea as well as the island of Donoussa. The Monastery of Christ Photodoti is two levels. The ground level is a three-aisle church. Around the monastery are vineyards, fig trees, and oak trees.
Monastery of Panagia Ypsilotera
Built in 1660, the Monastery of Panagia Ypsilotera is near the settlement of Galini. This monastery has a semi-circular tower that makes it unique from other monasteries in Naxos. There is a church and more towers on site. There are even murder-holes, which are holes where defenders would pour scalding water or rocks on attackers. The fortified monastery served as a center of rebellion by the locals against the repression of the Latin nobility throughout history.
Church of Panagia Drossiani
Not far from Moni is the Church of Panagia Drossiani, one of the oldest churches on the island of Naxos. The church is part of an old monastery and has a unique architectural style with stone walls, three adjoining chapels with square dome bases on their roofs. There are frescos that date back to the 6th century and thought to be some of the oldest in the Balkans. Other frescos in the church date from the 11th – 14th centuries.
Legend says that the location of the church was blessed by Virgin Mary with water and was "cool." The word drossia means "coolness." Next to the church you will find a small cemetery. This historical stone church is definitely worth a visit if you are visiting Naxos, Greece.
Naxos is the perfect place to visit if you have an interest in monasteries with history, charm, and beautiful architecture and paintings.
Categorized in: About Naxos, Greece, Greek Travel Guide
This post was written by GreekBoston.com
Like this article? Please share below: