Monasteries to Visit in Tinos, Greece
Written by GreekBoston.com in About Tilos, Greece, Greek Travel Guide Comments Off on Monasteries to Visit in Tinos, Greece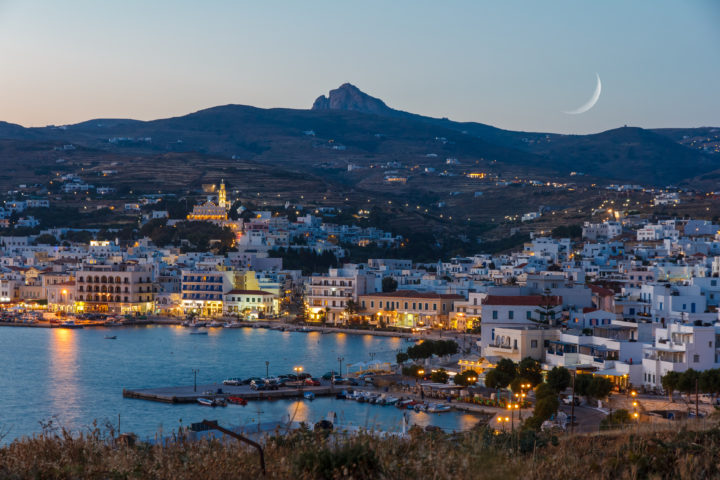 The Greek island of Tinos features endless sandy beaches, authentic villages, and lots of mountains. The ancient streets will transport you back in time as they lead you from place to place. The combination of natural beauty, art, tradition, and religion make the island the fascinating destination that it is.
When visiting Tinos, Greece you can't miss the abundance of monasteries and churches that call the island home. Here are some of the monasteries you can visit while here:
Monastery of Ursulines
Located in the village of Loutra, the Monastery of Ursulines is a Catholic monastery that was founded in 1862 by Marie Anne Leaves of Constantinople. The monastery used to be an important female education center for the children of Greece from 1862 – 1993. Many girls from wealthy families graduated from the school. It was also used as a boarding school, a university, and an orphanage. Today, the Monastery of Ursulines functions as a folklore museum and during the summer months exhibitions and events take place there.
Monastery of Kehrovouni
The Monastery of Kehrovouni was founded in the 12th century by the women of a wealthy family of Tinos. The monastery is dedicated to the Dormition of Virgin Mary. The Monastery of Kehrovouni is known for its beautiful architecture as it combines elements from both the Venetians and the island of Tinos itself. The monastery's complex has a number of buildings that include the main church, small chapels, and cells of the monks. Inside the Monastery of Kehrovouni you can see icons dating to the 18th century.
Monastery of the Sacred Heart of Jesus
The Monastery of the Sacred Heart of Jesus is an important pilgrimage center of Catholics in Greece. It was founded in 1724 by Jesuit monks who lived in the village of Kastro. When pilgrims visit, there are rooms for them to meditate in. Inside the monastery you can view a war memorial for Greek Catholics who died during the wars. There is also a cave that is dedicated to Panagia Lourdi. The Monastery of the Sacred Heart of Jesus offers rooms to pilgrims who want to meditate during their visit. During one week in July, a large traditional celebration takes place at the monastery.
Monastery of Saint Francisco
The Monastery of Saint Francisco was built on the island of Tinos in 1700 in Pentostato, close to the village of Mesi, by order of the Franciscans who had settled on the island at the time. The monastery was destroyed by the Ottomans, but would be restored until 1923 with the financial help of the Monastery of Constantinople. Today, the Monastery of Saint Francisco belongs to the Catholic Archdiocese of Naxos and Tinos. In 1747, the Franciscans founded another monastery at the island's new capital.
The monasteries and churches of Tinos, Greece are great in number. If you are visiting the island of Tinos, it will be worth your time to explore the monasteries that hold history and spirituality.
Categorized in: About Tilos, Greece, Greek Travel Guide
This post was written by GreekBoston.com
Like this article? Please share below: