Enjoy Sarakiniko Beach on the Island of Milos
Written by Greek Boston in About Milos, Greece, Greek Travel Guide Comments Off on Enjoy Sarakiniko Beach on the Island of Milos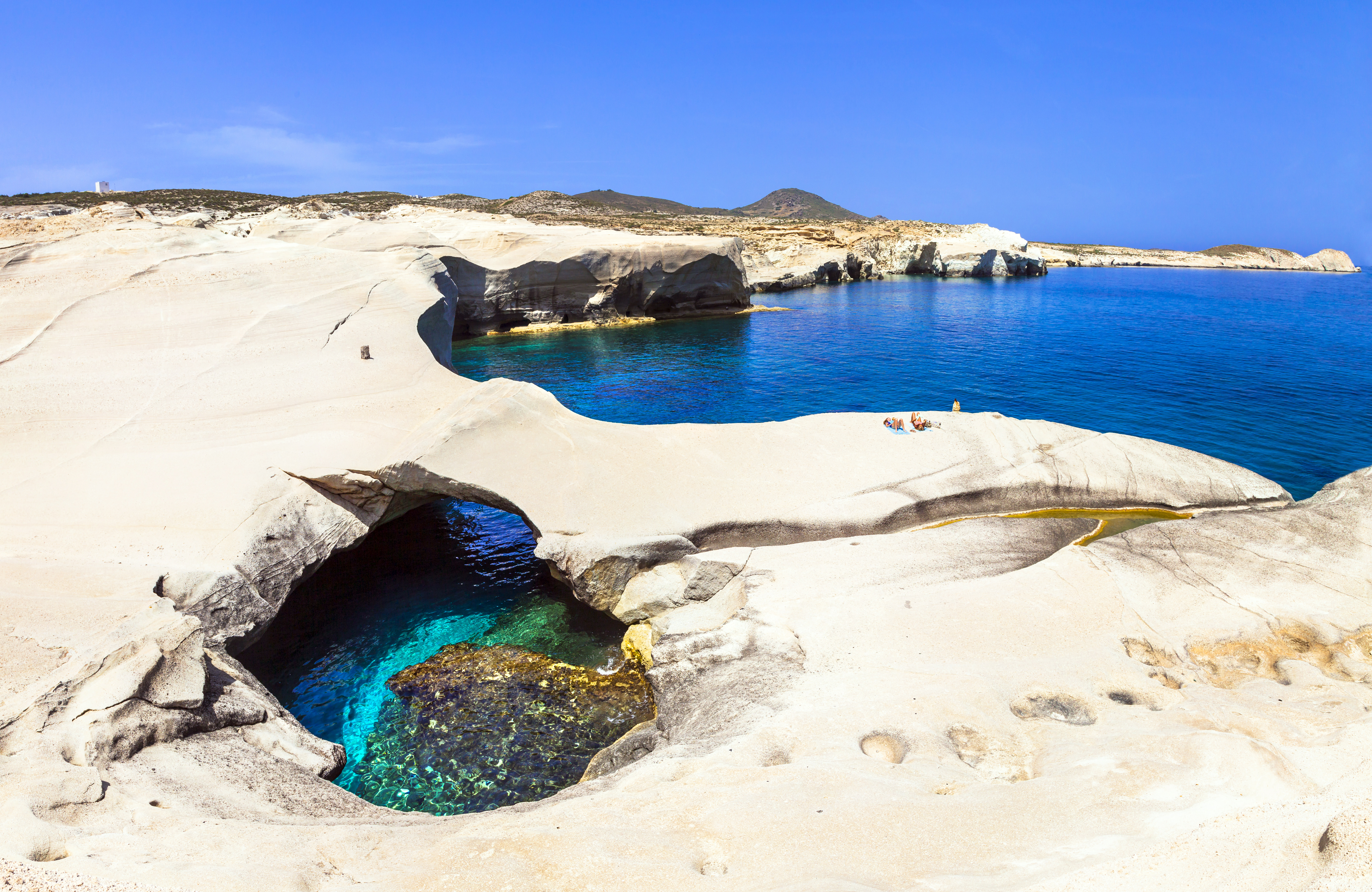 Milos is a volcanic island that has a truly unique geography. This island itself curves around the caldera of the volcano and is defined by its breathtaking and often colorful rock formations. Most of these formations are concentrated on the coastal areas on the island, and nowhere is this more prevalent than on Sarakiniko Beach, which is one of the most popular beaches on the island of Milos. Here's more information about visiting this beautiful beach:
Getting to Sarakiniko Beach
Milos island is one of those places that is completely worth a visit, but it is tucked just a bit off the beaten track. However, it does have an airport so it is possible to take a flight from the Athens airport in order to get here. It is also possible to take a ferry either from Piraeus or from some of the other islands near it. Since Milos is in the Cyclades, it is accessible from other Cycladic islands such as Santorini or Mykonos. The trip from these islands isn't far, which means that it is also possible to visit this island as a day trip. However, there is so much to see here, you might want to stay more than one day.
Once you find yourself on the island, you'll want to visit the beach early on in your trip so that you can have a chance to return more than once! The beach itself is located on a coastal road that is situated northeast of Adamas and east of Milos Town. If you rent a car it will be fairly easy to get here from anywhere on the island. It is also possible to take a bus or taxi.
What Sarakiniko Beach is Like
Although most of the beaches on Milos are unique and have gorgeous rock formations, many consider Sarakiniko Beach to be one of the most spectacular. On of the most enchanting things about this beach are its many rock formations, some of which are multi-colored. There are both horizontal and vertical rock formations that can be found throughout the length of the beach. The rocks have eroded through the centuries, which is why they have been formed in such unique shapes.
Between the rock formations, visitors can stretch out on the sand in a chair or rest on a towel, but the rocks are there to gaze at and enjoy throughout the day. Besides relaxing at this beach, it is also an ideal spot for sunset because the rocks seem to light up with spectacular colors during the setting sun. While here, you also won't want to forget your camera. Because this beach is so stunning, it is actually the most photographed spot on the island, especially during sunset.
Once you're done lounging on the beach, you can see some of the other sites on the island, such as the site of the Venus de Milo statue that is now being housed at the Louvre in Paris, France. That particular sculpture originated on the island of Milos.
PLEASE NOTE: The Greek travel section at GreekBoston.com are not paid reviews. Our unbiased and informative travel articles are designed review the popular cities, islands and places in Greece. We are not always able to exactly match the photos to the destinations, but we do try to get close. However, we are not looking for photo submissions at this time. If you find something in a Greek travel article that is not accurate based on your personal experience, please send us an email to greekboston@worldwidegreeks.com and we will consider your suggestions. Thanks for reading the travel section at GreekBoston.com!
Categorized in: About Milos, Greece, Greek Travel Guide
This post was written by Greek Boston
Share this Greek Travel Article: