Wedding Etiquette for Guests of a Greek Wedding
Written by Greek Boston in Greek Wedding Traditions Comments Off on Wedding Etiquette for Guests of a Greek Wedding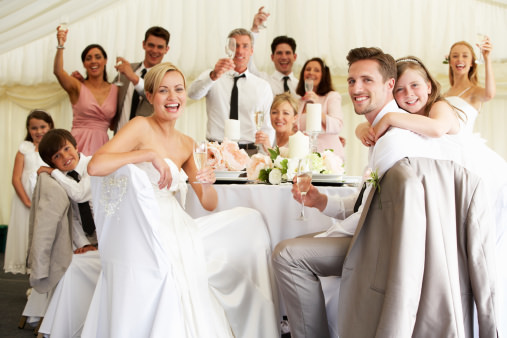 Have you recently been invited to a Greek wedding? Yes, the ceremony is beautiful but if you've never attended a Greek Orthodox wedding ceremony you may be unsure of what to do. Is there a dress code? What kind of gift should you give? How should you behave at the church?
Generally, the same rules apply for all weddings. However, there are some specific points about wedding etiquette for a Greek Wedding that need to be addressed.
What to Wear
Did the invitation specify a dress code? Terms to look out for include Black Tie, White Tie, Business Casual, Cocktail, and so on. This will make it easy for you to choose your outfit. For example, if the wedding is Black Tie, you will want to wear a tuxedo or formal suit if you are a man and a gown or cocktail dress for the women.
Even if the invitation does not specify, keep in mind there is a dress code at the church, especially for the women. Most Orthodox Christians feel that dressing in nice clothes (at least business casual) is a sign of respect. For the women, it is frowned on to wear pants even if it is in the form of a pants suit.
Behavior in the Church
Good behavior is encouraged during the ceremony. Greek weddings are normally solemn, yet happy, occasions. Watch how other people in the church conduct themselves and model your actions after what they do. For example, you will notice that there is a lot of standing and sitting during the ceremony. When in doubt, just follow the crowd.
Also, Greek churches are normally quiet. Resist the urge to yell out or make loud comments. Save that for the reception. If you have young children, do your best to keep them in check. If not, you may have to leave the church for a few minutes while they calm down.
Giving a Gift
In general, the same gift giving rules for weddings apply to a Greek one. First, you should check if they registered anywhere. Normally, most people use the bridal shower as a way to give a gift from the registry. However, there are often some gifts left on the list that no one got. If this is the case, feel free to purchase from the registry.
Money is always well received as a gift. Several factors will determine how much to give. These include the nature of the wedding venue (if it was expensive or not), whether or not you are giving the gift as a couple, and how well you know the bride and groom. It is hard to say how much to give because many factors should be considered such as how close you are to the bride and groom.
Remember that even though most Greek wedding receptions are fun and lively, the church itself is relatively sedate. Just relax, have an open mind, and follow other people during the ceremony. Most Greek wedding receptions are almost the same as most receptions that take place in the United States.
Categorized in: Greek Wedding Traditions
This post was written by Greek Boston