Greek Wedding Tips – How to Propose
Written by Greek Boston in Greek Wedding Traditions Comments Off on Greek Wedding Tips – How to Propose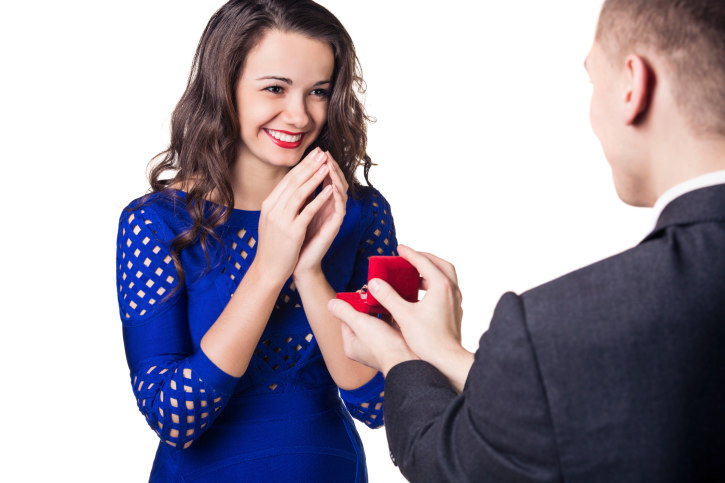 In both the United States and in Greece, it is the tradition for the man to ask the woman for her hand in marriage. Yes, there are some exceptions to this rule, but for the most part, it is the man's responsibility to ask.
For example, some women would prefer to be the one to ask. Also, sometimes a couple decides to get married by mutual agreement. If that is the case, the proposal won't necessarily be elaborate.
Also, for traditional Greeks, it is also the custom to ask her father's permission before you ask your potential bride. Here are some tips that will help give you insight on how to propose to a Greek woman.
Selecting an Engagement Ring
In the United States, the custom is to give your fiancé an engagement ring to wear during the engagement period. However, this isn't the custom in Greece. The wedding rings, not the engagement rings, are traditionally exchanged during the Greek Orthodox marriage ceremony.
If you are marrying an American or if you are Americans with Greek ancestry, buying an engagement ring before you ask your girlfriend to marry you is something that is expected.
Talking to Her Father
After you purchase the ring, your next step is to talk to her father. Even if it is something that they aren't expecting you to do, it is still a nice gesture. Doing so is a sign of respect to her family. You can mention it in either a casual or formal setting. The method you choose will depend on how well you know her family.
You are, in essence, asking for his blessing. It helps to get to know her family beforehand. The better you know them, the more likely it is that you will get her family's support to marry you.
Choose a Special Moment
No matter how you decide to propose, the moment should be special. In the movies, we are often exposed to elaborate scenarios such as putting the engagement ring in her dessert or taking her on a trip in order to propose at the right time. However, the right moment doesn't necessarily need to be this complicated.
What matters is to create a situation that celebrates your relationship. For example, if your girlfriend enjoys a certain kind of flower, you can buy her those flowers and present them to her with the ring. You can also propose on the anniversary of your first date, during a special holiday, at the location of your first date, etc.
What really matters is your sincerity, not the elaborate nature of your proposal. However, you do want to choose something memorable and that will make her happy. It should also reflect your own personality.
If you decide to get married in the Greek Orthodox Church, you will first need to make the decision to spend your lives together as a couple and it is the custom for the man to propose to the woman. Once you do that and she says yes, you should contact your priest to see what the next steps are.
Categorized in: Greek Wedding Traditions
This post was written by Greek Boston