Inexpensive Greek Wedding Favors
Written by Greek Boston in Greek Wedding Traditions Comments Off on Inexpensive Greek Wedding Favors
It is no secret that weddings can be expensive and Greek weddings are no exception. Saving money wherever you can, such as on the wedding favors, is an excellent way to keep the costs down. And, the good news is that you don't need to spend a lot of money to give your guests a nice option. Here are some ideas for inexpensive wedding favors that your guests will love.
Candy-Covered Almonds (Koufeta)
Giving your guests koufeta as a wedding favor is a Greek tradition. Koufeta are almonds, which have been covered in a white candy coating. You can save a considerable amount of cash by putting these favors together yourself. This should be given to each of your guests.
Only Give to the Women
If you really need to save money, it is perfectly acceptable to only give the wedding favors to the women. However, remember that the koufeta should be given to everyone. Other favors that you select can only be given to the adult females on your guest list. To eliminate confusion, you can give them their favor when they sign the guest book and find out about their seating arrangement.
Make the Favors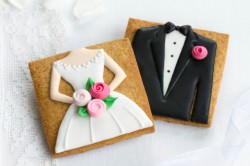 One fun option that can save you some cash on the wedding favors is to make them yourself. You can make things such as picture frames, personalized glasses, jewelry, and candy. For example, if you have a talent for making chocolate truffles, those do make a nice favor.
Shop Online
Another thing you can do for finding inexpensive favors is shop online. The internet makes it really easy to price-comparison shop. For example, if you decide to give your guests picture frames, all you need to do is peruse several specialty sites and order the least expensive one.
Give Food
Another way to save money on the favors is to give your guests food. For example, if you love baking you make cookies and place them in small bags for your guests. Or, you can give your guests candy. For example, you can find a service that will print the day of the wedding and the names of the bride and groom on the candy wrappers.
Shop the Dollar Stores
If you don't want to give food or make your own favors, you can also shop in the dollar stores and discount shops for acceptable favors. Keep in mind that these stores don't always have a lot of stock so you may not find everything that you need. Ideas include kitchen utensils, journals, and picture frames.
One thing that is important when selecting the wedding favors is to think about how much you really want to spend on them so that you don't exceed the budget. Just remember that no matter which favors you choose, the main point is that you are giving your guests a memento by which to remember your wedding for many years to come!
Categorized in: Greek Wedding Traditions
This post was written by Greek Boston