About Agistri, Greece
Agistri is a small island located in the Saronic Gulf. The island of Agistri is pine-covered and the coastline has sandy and rocky beaches with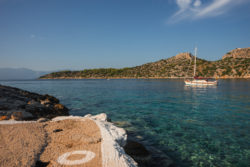 lots of greenery around. Many of the beaches are small coves. The tallest peak on the island of Agistri is Kontari at 245 meters. The inland of the island has small valleys and short hills. The capital of the island is Megalochori, which is on the northern side. Skala is the port.
There are just three settlement on the island of Agistri: Milos (Megalochori), Skala, and Limenaria. The main village is where most of the population resides. Skala is a 20 minute walk from Megalochori and where many of the hotels and tourist facilities are.
The island's history dates back to ancient years. Back then, it was known as Kekrifalia (meaning "embellished head"). Archaelogical excavations date the first traces of humans on the island of Agistri to 2,500 years ago. It seem the island was not continuously occupied though. Agistri Island, along with other neighboring islands, was part of the Aegina Kingdom. The kingdom was governed by King Aeakos. This is why the history of Aegina and the island of Agistri are usually intertwined.
During Medieval times, Agistri followed the historical course of Greece. It was first part of the Byzantine Empire before being conquered by the Ottomans. The island of Agistri was part of the first modern Greek Stata that was formed after the War of Independence in 1821.
In the early 1970s, the island would finally receive electricity as well as an asphalt road around the island.
The poet Homer mentions the island of Agistri and its contribution in the Trojan War as an ally of Aegina Island. Thucydides and Diodoros both mention the island, using its original name.
Administrative Region for Agistri Island, Greece
Attica
Area of Agistri Island, Greece
13.37 km2 (5.16 sq mi)
Population of Agistri Island, Greece
1,142
Top Attractions Agistri Island, Greece
Church of Agia Kyriaki – Located in the little town of Limenaria. This small church celebrates on July 7.
Church of Agioi Anargyroi – This church is located next to Skala Beach. It is a white with a blue dome. The Church of Agioi Anargyroi is the most photographed church on the island.
Church of Virgin Mary – Located in Metochi. This church location offers a wonderful view of the sea. The Church of Virgin Mary is accessible via a number of hiking paths.
Megalochori Village – The capital of Agistri. Enjoy traditional cafés, tiled paths and lanes, and white washed houses with clay tiled roofs. You can also view windmills from ancient times.
Chalikiada Beach – 4 km southwest of Megalochori Village. A large beach close to the port of Agistri. Green cliffs add to the beauty of this beach. Chalikiada Beach is secluded and nudist friendly.
Dragonera Beach – 3 km southwest of Megalochori. This is a pebbled beach on the west side of Agistri. The beach is organized with umbrellas and sun beds.
BELOW ARE INTERESTING ARTICLES ABOUT AGISTRI, GREECE: