Best Greek Chicken Recipes
Written by Greek Boston in Greek Cooking Comments Off on Best Greek Chicken Recipes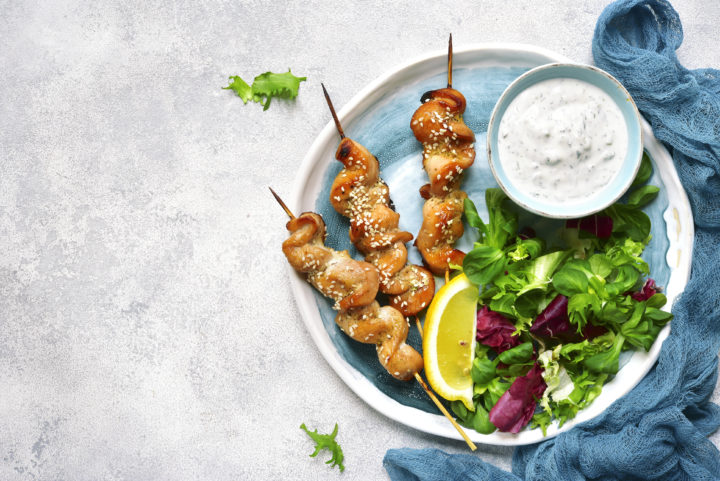 There are a lot of facets to Greek cuisine, but one of the things that sets it apart is its devotion to choosing only the freshest ingredients. It also has a knack for making everything taste at its most delicious, and chicken is no exception. Whether cooking the chicken on a grill, stewing it, roasting it, or pairing it with tomato sauce and noodles, there is a Greek chicken recipe here that will satisfy every craving.
Here's a look at some of the best Chicken recipes that Greek cuisine has to offer:
Souvlaki is a method for cooking meat that involves marinating it in a Greek marinade, usually with lemon juice and olive oil, placing the cubed meat on skewers, and grilling it. The charred flavor of the chicken fresh off the grill pairs well with other Greek dishes, such as tzatziki and Greek salad (horiatiki) or other types of salads. This is perfect for warmer days when you'd rather be outside!
This aromatic chicken stew contains a burst of flavors. Stewed in red wine with a variety of spices and herbs, such as thyme, rosemary, and cloves, this dish is worth making if you have the time to let it stew for as long as it needs. Serve this with rice, vegetables, potatoes, salad, and other typical Greek foods. This heartier dish is especially delicious in the colder months.
There's something so special about the sight, smell, and flavor of a whole roasted chicken. This version is particularly delicious because it includes classic Greek flavors, like lemon and Greek oregano. It is also a delicious, year round dish that produces plenty of meat. It tastes great with other Greek dishes, such as rice pilaf and Greek potatoes.
Hilopites are a special type of Greek noodle that is cut in small, square shapes. This noodle is used in a variety of Greek dishes, but one of the most popular is for Kota Hilopites, also known Chicken Hilopites. In this recipe, chicken is simmered in a sauce made of tomatoes, tomato paste, and the noodles.
Chicken pilaf is a classic Greek dish that is incredibly popular. Each family has its own way of making this dish, but the basic premise is that chicken is simmered in a mixture of tomato, rice, and other ingredients. Our version uses onions, tomatoes, chicken pieces, and rice at its core.
Cooking meat on an outdoor spit is a classic technique throughout Greece. It is also in practice outside of Greece amongst the diaspora. Although we typically associate this technique with lamb, it also works for chickens! The magic is to slow roast the chickens over the heat and constantly baste it with some marinade.
Kapama is a classic Greek dish. It can be made with any meat, but this version uses chicken pieces. It starts by creating an aromatic spice rub and pan searing the chicken. The pan is then deglazed with wine or other ingredients and the chicken is simmered. Our version uses cloves, cinnamon, onion, and chicken broth to make up the bulk of its flavor.
These classic chicken dishes are a must for anyone who loves Greek chicken. They're all delicious in their own right!
Categorized in: Greek Cooking
This post was written by Greek Boston
Share this Greek Cooking Article: