Best Greek Desserts to Eat in the Fall
Written by Greek Boston in Greek Cooking Comments Off on Best Greek Desserts to Eat in the Fall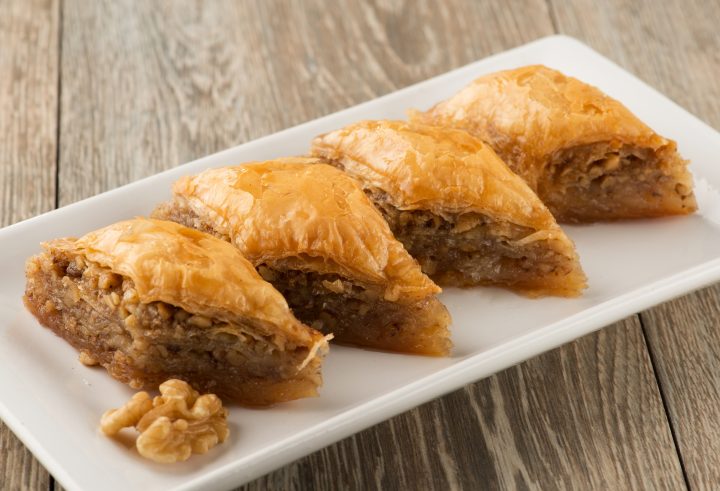 Many places in Greece have a growing season year round. Yet, many places in Greece do still experience the four seasons, especially when you get up to the higher elevations. Traditional fall foods, such as walnuts and apples, grow abundantly here. Traditional fall squashes, like butternut squash and pumpkin, are also found in Greece in some of the regions.
As a result of this, they've made their way into some of the desserts. Here's a look at some of the best dessert recipes that you should prepare in the fall. They taste especially great at this time of year:
In terms of Greek desserts, baklava is about as traditional as it gets. This is a classic dessert, and one that is enjoyed all year long. The nuts used in this are picked when they are ready, and they store extremely well, making them available year round. However, they seem to taste best right after they are picked. This is when the baklava tastes the best.
It wouldn't be fall without apples! This is a universal truth all over the world, wherever apples are grown. In Greece, apples do well in some of the climates, especially in higher elevations on islands like Crete where there are a lot of mountains. This apple cake is one of the most common apple-based desserts found in Greek cuisine.
If you want a simple dessert that can be whipped up in minutes, consider making this Greek-style baked apple recipe. This is also a common way to eat apples for dessert in Greece, and if you use traditional Greek flavors, like ouzo spirit, cinnamon, and cloves, then it will taste especially delicious.
As mentioned above, walnuts are in season in the fall. This walnut cake is a popular way to prepare them. Unlike baklava, which includes chunks of walnuts, this cake is made from the finely ground walnuts so that they can form a type of flour. The end result is a cake that has an interesting texture that pairs well with the honey syrup it is typically finished with. Use the freshest walnuts you can find for best results!
Throughout the growing season, you may have been busy making jams from the various in-season fruits. Pasta Flora, which seems a bit more French than Greek, is actually a popular dessert in Greece and offers a way to use all these delicious preserves. It's also a crowd pleaser since everyone seems to love a good fruit tart!
Squash, such as butternut squash and pumpkins, are also popular at this time of year. This delicious, flaky phyllo dessert offers a way to use this harvest crop. To the American pallet, it might taste a bit like pumpkin pie, but within layers of crispy phyllo dough.
As you can see, you can't go wrong with any of these desserts. Although you can easily cook them year round, they taste especially great in the fall.
Categorized in: Greek Cooking
This post was written by Greek Boston
Share this Greek Cooking Article: