Best Foods to Serve at a Greek Wedding
Written by Greek Boston in Greek Cooking Comments Off on Best Foods to Serve at a Greek Wedding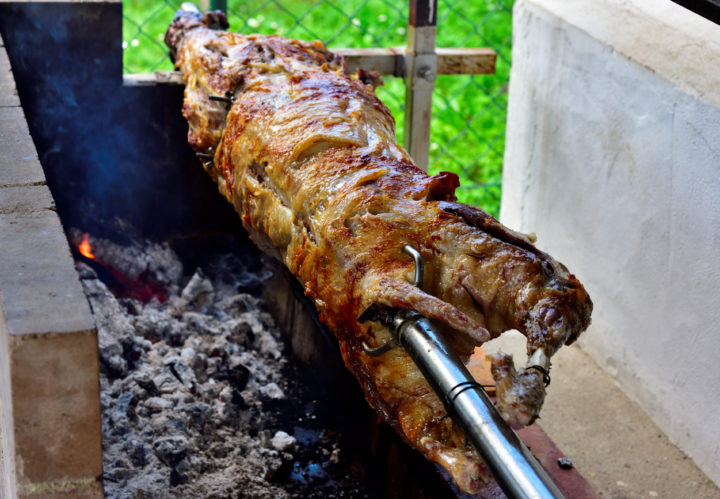 Greek weddings are festive occasions that are filled with tradition. If the wedding takes place in a church, the Greek wedding service will be a memorable one. After the ceremony is over, friends and family gather for a festive, decadent meal filled with plenty of Greek favorites. They dance and party well into the night in Greek weddings that take place not only in Greece, but amongst the Greek population throughout the world.
Are you wondering what to serve for food at Greek wedding? Here are some of our favorite choices:
No dish signifies a Greek party better than lamb does, especially when it is roasted on a spit. The lamb is usually placed on the spit early in the morning. By the time the ceremony is over, the lamb is roasted to perfection. Our recipe uses a flavorful marinade of olive oil and lemon and is roasted for hours over a steady heat.
Don't want to serve lamb at your wedding? Consider cooking a bunch of chickens on a spit! This makes a festive choice for those who either don't want to serve lamb, which can be heavier, or that want to supplement the land with something else. If your wedding guest is large, you would need a lot of spits to make enough chickens to feed the crowd!
The Italian version of this dish is dubbed "Italian Wedding Soup". This is a delicious starter choice for Greek weddings, as well. Meatball soup is made with a flavorful broth, Greek style meatballs, and is finished with a light avgolemono (egg and lemon) sauce.
Spanakopita, also known as spinach pita, is one of the most popular dishes to serve at a Greek wedding and makes an excellent addition to the main course as well as a nice starter course. The great thing about this is that one recipe yields a high amount of pieces, so you wouldn't have a hard time making enough to feed all the wedding guests.
Tiropita, known as cheese pita, is almost as popular as spanakopita and is a fairly decadent choice. In this recipe, a mixture of cheeses, eggs, and herbs and spices are mixed together and surrounded by layers of buttery fillo. To please the wedding guests even more, consider offering both spanakopita and tiropita as part of the spread.
Stuffed grape leaves, also known as dolmades, are a great food to serve during a wedding. These tasty little rolls are time consuming to make, and most people know it! Besides the fact that they are delicious, people will respect their presence on the table because most Greeks know what goes into making them. These make an excellent main course, side dish, or even as part of an appetizer or meze spread.
Baklava I sone of the most popular of all the Greek desserts and should be part of every Greek wedding. Most recipes use a mixture of nuts, sugar, and spices. This mixture is then surrounded by layers of flaky, buttery fillo. The dessert is finished off by a sweet honey and sugar syrup. It is the perfect dessert for a special occasion!
Kourabedies are the classic celebration cookie. Buttery shortbread cookies are finished with an ample dusting of confectioners' sugar. No wedding would be complete without them!
No matter what kind of wedding you are having, you will find that these dishes are definite crowd pleasers. Consider serving these them at your wedding!
Categorized in: Greek Cooking
This post was written by Greek Boston
Share this Greek Cooking Article: