About the Greek White Wine – Moschofilero
Written by GreekBoston.com in Greek Cooking Comments Off on About the Greek White Wine – Moschofilero
Moschofilero is a fantastic Greek white wine that is made from some of the finest grapes from local vineyards in the Mantinia plateau and in the southern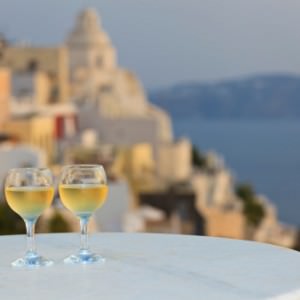 Peloponnese region of Greece.  Moschofilero white wine has very distinct flavors and smells of peppermint, rose and a hint of citrus. In fact, it's very flavors are a reflection of the types of things that can be found growing in the southern Peloponnese. It's hard to go anywhere without bumping into a peppermint plant, rose bush, or citrus tree.
Moschofilero is a great dry wine and is often paired with fruits and various cheese, but also tastes great with any chicken or fish meal/dish.  In many cases, Moschofilero can be made sweeter and even sparkling white wine in many cases. It's a light wine that is slightly sweet, and those who tend to like Muscat wines tend to gravitate towards Moschofilero because the flavors are similar.
Moschofilero can now be found worldwide as well as locally on your next trip to Greece or the Greek islands.
Source:
wikipedia.org
Categorized in: Greek Cooking
This post was written by GreekBoston.com
Like this article? Please share below: