Learn About Nikos Kazantzakis – Popular Greek Novelist
Written by Greek Boston in Modern Greek History Comments Off on Learn About Nikos Kazantzakis – Popular Greek Novelist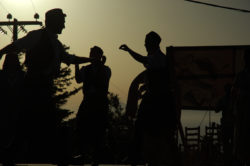 Nikos Kazantzakis is considered one of the great Greek novelists of this modern era.  Most of us know about his popular novel, Zorba the Greek, and the film adaptation the novel inspired. However, there was so much more to him than that! He was known for his works of poetry, essays, and plays. He also worked as a journalist, translator, and a travel writer. Here's more information about him:
Early Life
Nikos Kazantzakis was born February 18, 1883 in Crete. Crete at that time was still part of the Ottoman Empire. In 1889 his family fled for six months to Greece when rebels tried to win freedom from the Turks. Nikos spent his younger years on the island of Naxos and eventually moved to Athens after deciding to study law.
He graduated from the University of Athens in 1906 and later from the University of Paris in 1909. Before Nikos even finished his law degree, he started his writing career. Even though he was considered a spiritual man, he often struggled with his faith. This was sometimes reflected in some of his works.
Literary Achievements
His early career was spent traveling and writing a variety of travel articles. Berlin, Paris, Italy, China, Japan, Russia, and Egypt were a few of the locations he visited. This was the primary focus of his career from 1927 to 1941. During this time he wrote the Odyssey, which is a poem based on Homer's Odyssey.
Throughout most of the 1940's Kazantzakis worked on writing plays. A few of his plays included Prometheus and Constantine Palaeologos. Throughout his life he would pick up odd jobs writing to earn extra money. One such job was writing textbooks for second and third graders.
Later Career
In 1942 he decided to give up his writing career to enter politics because of World War II. In 1945 he became a minister in the Sofoulis coalition government. The next year he left this position after the democratic socialist parties united. He didn't, however, abandon his writing career and continued to work on several projects through the latter part of his life.
Later in his writing career Kazantzakis turned to writing novels. His most famous novel was Zorba the Greek. It was published in 1946. The novel was made into a successful movie in 1964. While writing novels, he was also translating several of his plays. The novel Report to Greco was published after his death in 1961.
Personal Life
He married Galatea Alexiou in the year 1911. They were divorced in 1926. He would marry Eleni Samiou many years later in 1945. Kazantzakis died October 26, 1975 at the age of 74 while he was in what was formerly West Germany.
His body was returned to Athens. Because some of his writings were considered controversial, the Greek Orthodox Church didn't allow his body to lie in state. His body was instead transferred to Crete.
Nikos Kazantzakis will be remembered as a prolific writer who turned out a wide variety of work. He was nominated nine different times for the Nobel Prize in Literature and made major contributions to Greek literature.
Categorized in: Modern Greek History
This post was written by Greek Boston
Share this Greek History Article: