About Elounda, Greece
Elounda is a small town on the northern coast of the island of Crete. The road from Agios Nikolaos follows the shore as it climbs the small mountain.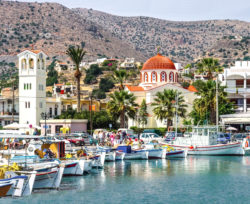 On the road from Agios Nikolaos is the small fishing village of Plaka, which overlooks the island of Spinalonga. Plaka is just 5 km from the main square of Elounda. Elounda is a well-known tourist attraction, which sees a number of VIPs, including the royal family of Saudi Arabia who visit almost every year.
Elounda is the setting in the novel Out of the Blue by Belinda Jones and was also featured in Victoria Hislop's novel The Island, which was adapted for Greek television as a mini series. In the late 1970s, the BBC TV series called Who Pays the Ferryman was filmed in Elounda.
The earliest known settlement at Elounda was the ancient Greek City of Olous. They were in conflict, off and on, with the people of Dorian Lato, the Dorians who resided in the ancient Crete city of Lato. A peace treaty would be established between the two at some point. Elounda was also part of the Venetian era. Over time, the town of Elounda has changed quite a bit. Part of it now sits under the sea and is still partly visible when diving in the bay.
Elounda would act as a stopping point for lepers who were being transported to the leper colony at Spinalonga during the early 1900s.
Top Attractions in Elounda, Greece
Elounda Beach – A clean, well-maintained beach. Umbrellas and sun beds are available. There are facilities including washrooms, changing rooms, and a café.
Spinalonga Island – A popular tourist attraction. Small pebbled beaches and shallow water. Visit with a boat trip, which lasts a few hours.
Kolokithia Beach – Approximately 5 km from Elounda. Worth the walk to get to the beach. A small beach with torquise water.
Skisma Beach – Located in the bay of Elounda. Amazing views toward Spinalonga Major. Sun beds and umbrellas are available.
Plaka Beach – A rocky (large stones) beach with lovely water. Wooden paths for walking. An organized beach with showers and restaurants nearby.
BELOW ARE INTERESTING ARTICLES ABOUT ELOUNDA, GREECE: