Recipe for Melitzanosalata – Greek Eggplant Salad
Written by Greek Boston in Authentic Greek Food Recipes, Greek Orthodox Fasting Lenten Recipes, Greek Salads Recipes, Greek Vegan Food Recipes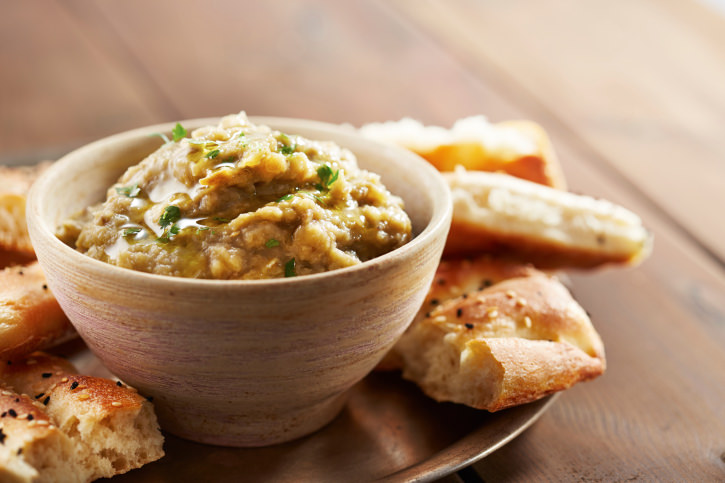 Melitzanosalata is the Grecian version of Baba ghanoush, but eggplant salad dishes can be found in multiple cultures across the world including Argentina, Ethiopia, Spain, Turkey, and Armenia.
Eggplant Salad Recipe Ingredients:
3 to 4 (long type) eggplants
1 small grated onion
1 to 2 cloves crushed garlic
1 large, peeled and chopped tomato
3/4 cup olive oil
1 tablespoon vinegar
Salt
Pepper
Green peppers
Directions on How to Prepare Greek Eggplant Salad:
Wash the eggplants and blot them with a paper towel. Place in a baking pan at 350 Degrees Fahrenheit and bake until soft. This should take about 1 hour. 
Allow skin to turn black so as to give a smoke flavor to the salad. Skin eggplants while still hot and chop into small pieces. Continue chopping while adding slowly the onion, garlic, tomatoes, oil, vinegar, salt and pepper.
Put in a salad bowl, and garnish with olives and green pepper rings.
Serve with roast meat, and grilled or fried fish.
**Please Note:  Recommended cook times for GreekBoston.com Greek recipes vary depending on elevation, environmental conditions, the cookware being used, and the nature of the oven or stove. Although we have given approximations, these don't always take into account your unique environment.
PLEASE NOTE: Greek recipes can be slightly different based on a variety of reasons, such as the region of Greece that the recipe is being made in. If you have seen this Greek recipe made another way, please send us an email to greekboston@worldwidegreeks.com and we will evaluate your suggestion. Thanks!
Categorized in: Authentic Greek Food Recipes, Greek Orthodox Fasting Lenten Recipes, Greek Salads Recipes, Greek Vegan Food Recipes
This post was written by Greek Boston