Recipe for Greek Style Giant Baked Beans
Written by Greek Boston in Authentic Greek Food Recipes, Greek Orthodox Fasting Lenten Recipes, Greek Vegan Food Recipes, Greek Vegetable Recipes
In most Greek homes, beans are a staple. This dish, appropriately named gigantes, or giants, calls for large lima beans. These are great served warm but also delicious right out of the refrigerator as a cold side dish.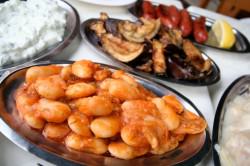 Greek Style Giant Baked Beans
Greek Style Giant Baked Beans (Gigantes Plaki) Recipe Ingredients:
1 pound gigantes or large lima beans
1/2 cup extra virgin olive oil
2 medium onions, finely chopped
2 garlic cloves, finely chopped
1 can (140z) tomato puree
1/2 cup water
1/2 teaspoon sugar
1/2 cup parsley, finely chopped
1 tablespoon dried oregano
Salt and pepper to taste
2 tomatoes sliced thinly into rounds
How to Bake Greek Giant Green Beans:
Soak the lima beans overnight in 6-8 cups of water. Drain and discard the water.
In a medium saucepan add beans and 5 cups of water. Bring to a boil for 15 minutes then drain.  Put the beans back in the pot with 5 new cups of hot water and cover, simmering until soft (an hour to an hour and a half).
While the beans simmer, heat 1/4 of the oil in a large skillet and sauté the onions and garlic. (Make sure not to burn the garlic or the food will be bitter).
Add the tomato puree, water, bay leaves, sugar, parsley and oregano. Mix well and cover and simmer for 5 minutes. Remove from heat.
When the beans are cooked, drain the water and place the beans in a 9×12 baking dish. Cover with the tomato sauce, sprinkle with salt and pepper to taste and drizzle the remaining oil on top.
Gently mix the beans and arrange the tomato slices on top.
Cover with aluminum foil and bake at 350 degrees for 45 minutes, then remove the foil. Continue to bake for an additional 45 minutes or until most of the liquid has been absorbed.
** This recipe contains olive oil, so it won't be suited for a strict fast.
**Please Note:  Recommended cook times for GreekBoston.com Greek recipes vary depending on elevation, environmental conditions, the cookware being used, and the nature of the oven or stove. Although we have given approximations, these don't always take into account your unique environment.
PLEASE NOTE: Greek recipes can be slightly different based on a variety of reasons, such as the region of Greece that the recipe is being made in. If you have seen this Greek recipe made another way, please send us an email to greekboston@worldwidegreeks.com and we will evaluate your suggestion. Thanks!
Categorized in: Authentic Greek Food Recipes, Greek Orthodox Fasting Lenten Recipes, Greek Vegan Food Recipes, Greek Vegetable Recipes
This post was written by Greek Boston