Recipe for Greek Style Fried Zucchini
Written by Greek Boston in Authentic Greek Food Recipes, Greek Orthodox Fasting Lenten Recipes, Greek Vegan Food Recipes, Greek Vegetable Recipes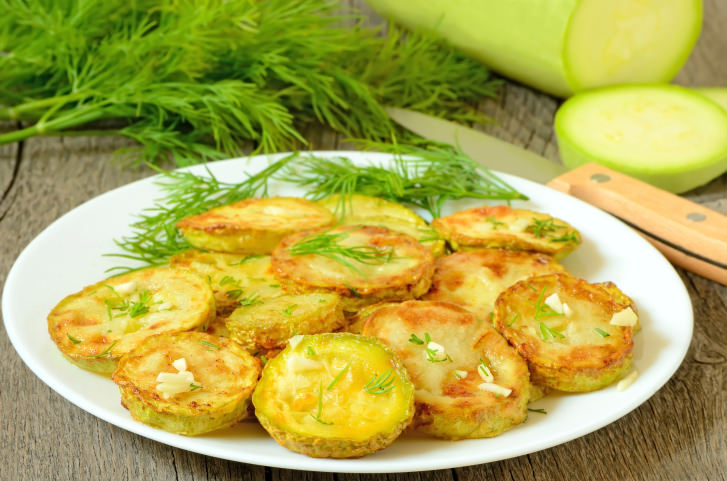 When your garden is overflowing with zucchini this fried zucchini recipe is a simple and easy vegetable dish that is great for parties and get-together.
Greek Style Fried Zucchini (Kolokithakia Tiganita) Recipe Ingredients:
2 lbs. Zucchini
Pepper Salt
Flour (Use gluten-free if following a gluten-free diet)
Olive oil for frying
Instructions for Greek Fried Zucchini:
Wash zucchini and cut into 1/4-inch slices.
Mix salt and pepper into flour. Dip each into the seasoned flour and shake off any excess.
Heat olive oil in a large frying pan.
Fry a few zucchini slices at a time in the hot oil until golden brown.
Serve with skorthalia or tzatziki dipping sauces.
** This recipe contains olive oil, so this recipe won't be suited for a strict fast.
PLEASE NOTE: Greek recipes can be slightly different based on a variety of reasons, such as the region of Greece that the recipe is being made in. If you have seen this Greek recipe made another way, please send us an email to greekboston@worldwidegreeks.com and we will evaluate your suggestion. Thanks!
Categorized in: Authentic Greek Food Recipes, Greek Orthodox Fasting Lenten Recipes, Greek Vegan Food Recipes, Greek Vegetable Recipes
This post was written by Greek Boston