Recipe for Greek Style Vegetable Stew with Olive Oil
Written by Greek Boston in Authentic Greek Food Recipes, Greek Orthodox Fasting Lenten Recipes, Greek Vegan Food Recipes, Greek Vegetable Recipes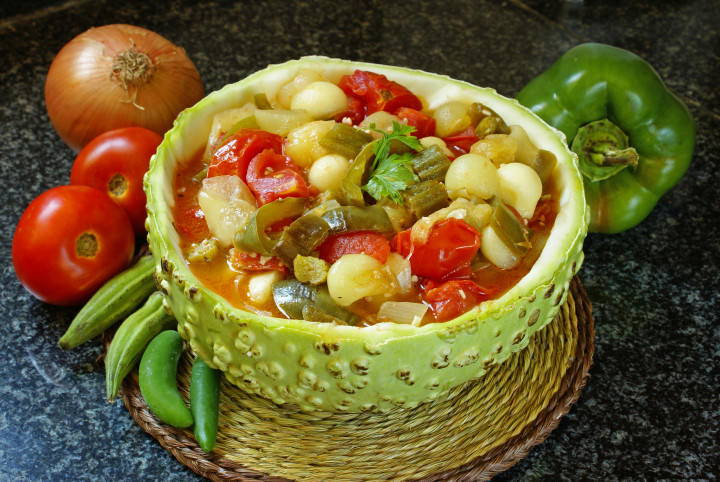 This robust vegetable stew is great as a main dish for vegetarians and meat eaters alike. Feel free to jazz the recipe up with a few Kalamata olives and beans to make it even more flavorful.
Greek Vegetable Stew Recipe Ingredients:
1 lb. green beans
1 lb. eggplant
1 lb. zucchini
2 green peppers
1 lb. potatoes
1 1/2 lbs. tomatoes
2 medium, sliced onion
2 tablespoons salt
1/2 teaspoon pepper
2 teaspoons sugar
1 1/4 cups olive oil
Chopped parsley
Instructions to Make Vegetable Stew:
Wash green beans.  Remove ends and strings if any.  Cut into 2 inch pieces.
Scrub zucchini, cut off ends and wash. Cut in halves lengthwise and crosswise into 1 inch pieces.
Wash and remove seeds from peppers. Cut into strips.
Peel and wash potatoes. Cut in small pieces.
Wash, peel and cut tomatoes into slices.
Peel, wash and slice onions.
Put all vegetables together in layers in a large stew pan. Add salt, pepper, sugar, olive oil, parsley and 1 cup hot water.
Cover and cook over low heat for 1 1/2 hours, or until vegetables are soft and most of the liquid has evaporated.
** This recipe contains olive oil, so this recipe won't be suited for a strict fast.
PLEASE NOTE: Greek recipes can be slightly different based on a variety of reasons, such as the region of Greece that the recipe is being made in. If you have seen this Greek recipe made another way, please send us an email to greekboston@worldwidegreeks.com and we will evaluate your suggestion. Thanks!
Categorized in: Authentic Greek Food Recipes, Greek Orthodox Fasting Lenten Recipes, Greek Vegan Food Recipes, Greek Vegetable Recipes
This post was written by Greek Boston