Orthodox Saint Anthimus of Nicomedia History and Name Day Information
Written by Greek Boston in Greek Orthodox Religious Information Comments Off on Orthodox Saint Anthimus of Nicomedia History and Name Day Information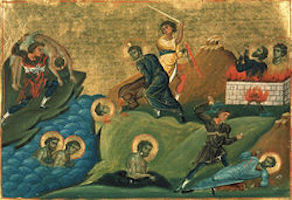 Learning about the saints is an important part of being an Orthodox Christian. Not only are people named after the saints, but Orthodox churches and chapels are, as well. Each saint has his or her own feast day, which are celebrated each year as part of the church calendar. Those who are named after these saints will celebrate their name day on the saint's feast da.
Saint Anthimus of Nicomedia is one of these saints and he was also one of the martyrs who lost his life because of his beliefs. His feast day takes place each year on September 3rd. Here's more information about this saint:
About Saint Anthimus of Nicomedia
We don't know much about the early life of Saint Anthimus of Nicomedia, also referred to as the Bishop of Nicomedia. However, we do know that he was alive somewhere in the late 3rd century and into the early 4th century before he lost his life as a martyr. However, we do know that his story is directly tied to the story of the martyrs of Nicomedia.
During this time, Christians were facing heavy persecution and roughly 20,000 Christian had lost their lives under the rule of the Emperor Maximium. After multiple martyrs lost their lives, Bishop Anthimus of Nicomedia fled to a village in order to provide aid to the survivors and to flee persecution.
When the Emperor learned of his escape, he sent men out to look for him. They found Saint Anthimus, arrested him, and brought him before the Emperor. After he confessed his faith directly to the Emperor, Bishop Nicomedia was sentenced to death and then martyred.
Hymns of Saint Anthimus of Nicomedia
Saint Anthimus of Nicomedia's feast day takes place on September 3rd of each year. Here are the hymns that are sung on this day:
Apolytikion of Hieromartyr Anthimus – Fourth Tone
As a sharer of the ways and a successor to the throne of the Apostles, O inspired of God, thou foundest discipline to be a means of ascent to divine vision. Wherefore, having rightly divided the word of truth, thou didst also contest for the Faith even unto blood, O Hieromartyr Anthimus . Intercede with Christ our God that our souls be saved.
Kontakion of Hieromartyr Anthimus – Fourth Tone
Among God's priests wast thou distinguished for fervour; and in completing well thy course as a Martyr, thou didst quench all the power of idolatry; for thou wast the champion of thy flock; hence, it crieth unto thee now mystically, as it showeth thee honour: Deliver us from perils by thy prayers, O godly-minded and glorious Anthimus.
Saint Anthimus of Nicomedia is one of the saints of the Orthodox Christian Church and he is also one of the martyrs who lost his life for his beliefs. His story is tied into the story of the Martyrs of Nicomedia, and he shares a feast day which of those who lost their lives. Check the Name Day page for more information about other Orthodox Christian name days.
Sources:
Source for Photo Credit for Image Above
Categorized in: Greek Orthodox Religious Information
This post was written by Greek Boston