Saint Barnabas Orthodox Saint History and Name Day Information
Written by Greek Boston in Ancient Greek History, Greek Orthodox Religious Information Comments Off on Saint Barnabas Orthodox Saint History and Name Day Information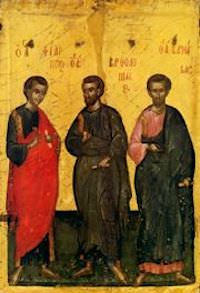 When it comes to the Orthodox Christian Church, there is no doubt that the saints are important. Not only are people regularly named after the saints, but many churches are named after them, as well. The lives of the saints are regularly celebrated throughout the church's calendar year and each saint has his or her own feast day. Those who are named after a particular saint celebrate their name days on the saints' feast days. 
Saint Barnabas is one of those saints. Referred to as Barnabas the Holy Apostle, he had an impact on the early church. His feast day is celebrated every year on June 11th of each year. Here's more information on the life of Saint Barnabas:
About Saint Barnabas
Saint Barnabas, also known as Barnabas the Holy Apostles, is one of the original Seventy Apostles. He has also been established of being from the Tribe of Levi and was a disciple along with Paul under Rabban Gamaliel, a Jewish religious leader whom the New Testament describes as being a "great man." Both Paul and Barnabas were known for being immersed in Jewish teachings before following Jesus and Rabban Gamaliel appears to have been one of their teachers.
When he was being taught be Rabban Gamaliel, his name was Joses. Once he converted and became one of Christ's followers, he changed his name to Joses. Paul had a similar name change. Before Paul followed Christ, he was named Saul. Barnabas means "son of consolation" and was a name that he could identify with. Barnabas is referenced in the New Testament Book of Acts as selling one of his fields and bringing the money to the other Apostles (Acts 4:36-37).
Barnabas actually converted to Christianity before Paul did. Before Paul made the switch, it was actually Barnabas who was the leader of the Seventy Apostles. Once Paul converted and joined them, Paul become the leader. After Saul had his vision on the road that ultimately caused him to convert, it was Barnabas who initially embraced him joining the Seventy. Many of the Apostles feared Paul because he had been a well known persecutor of Christians. It was largely because of Barnabas that Paul was initially accepted.
Hymns of Saint Barnabas
Saint Barnabas's feast day is on … Here are the hymns that are sung on both of these days.
Troparion (Tone 3) 
Holy Apostles Bartholomew and Barnabas,
Entreat the merciful God
to grant our souls forgiveness of transgressions.
Kontakion (Tone 3) [2]
You became a true servant of the Lord
And appeared as the first among the Seventy Apostles;
Together with Paul you set your preaching in a clear light
Revealing Christ as Savior to all;
Therefore with hymns we celebrate your godly memory, O Barnabas.
Saint Barnabas the Holy Apostle is one of the early saints of the Orthodox Christian Church. His name day is celebrated on June 11th of each year. Check the Name Day page for more information about other Orthodox Christian name days.
Source:
Barnabas the Holy Apostle – Also source for image above
Categorized in: Ancient Greek History, Greek Orthodox Religious Information
This post was written by Greek Boston