Orthodox Saint Jason History and Name Day Information
Written by Greek Boston in Ancient Greek History, Greek Orthodox Religious Information Comments Off on Orthodox Saint Jason History and Name Day Information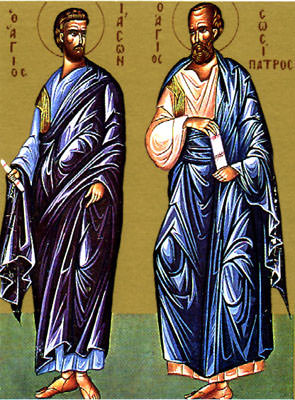 The saints are an important part of the church history in Orthodox Christianity. We learn about the lives of the saints as part of our church life, and most Greek Orthodox Christians know exactly which of these saints they were named after. They then celebrate their name day each year, which is the official feast day of that particular saint as observed in the church calendar. In some instances, people even celebrate their name day instead of their own birthdays!
Saint Jason, who is considered to be one of the early saints of the church, is one of these people. His feast day is on April 29th of each year and he is also honored again with the rest of the Seventy Apostles on January 4th. Here's more information about Saint Jason:
About Saint Jason
Saint Jason, also referred to as Apostle Jason or the holy, glorious, all-laudable Apostle Jason, is known for being one of the Seventy Apostles. The Seventy Apostles, in addition to the original Twelve Apostles, were chosen by Jesus to travel in order to spread Christianity and form the Early Christian Church. Since Jason is numbered as one of the Seventy, it is safe to assume that he was alive at some point during Jesus's time. However, the exact date of his birth is unknown. 
Jason was born in Tarsus, which is located in present-day Turkey. The Apostle Paul was also from Tarsus and later on, Paul chose Jason to become the Bishop of Tarsus. Also during his life, he traveled to Corfu with another apostle, the Apostle Sosipater. While there, they built a church on honor of one of their own, the Apostle Stephen the Protomartyr, who lost his life establishing the early church. While there, the pair also converted many pagans who were living on the island to Christianity.
While they were on Corfu, the pair also managed to convert the king's virgin daughter to Christianity. She was thrown into prison and when the prison was burned, she remained unscathed. Many people witnessed this and called it a miracle and also converted to Christianity because of what they had seen. She was eventually martyred and killed when shot with multiple arrows. The king was in a rage, upset by these events. When new believers began to fled, the king made an attempt to chase them. Instead of catching them, his boat sank and he was killed. His replacement, the new king, ended up also becoming a Christian.
Hymns of Saint Jason
There are some hymns that can be found in the Orthodox Christian church service that celebrate Saint Jason. Here are the details:
Troparion (Tone 3) 
O holy Apostles Jason and Sosipater,
Pray to the merciful God,
That He may grant to our souls
Remission of our transgressions.
Kontakion (Tone 2)
O Jason, source of healing,
And Sosipater, glory of the martyrs of Christ:
You were enlightened by the preaching of Paul,
Both becoming a great consolation to the world through your miracles.
Thrice-holy and God-bearing Apostles and defenders of those who suffer,
Intercede with Christ God that He may save our souls.
Saint Jason's name day is on April 29th of each year and he is also honored on January 4th with the rest of the Seventy Apostles. Check the Name Day page for more information about other Orthodox Christian name days.
Source:
Orthodox Wiki – Apostle Jason (Also Source for Photo Credit for Image Above)
Orthodox Wiki – Seventy Apostles
Categorized in: Ancient Greek History, Greek Orthodox Religious Information
This post was written by Greek Boston