5 Must See Archaeological Sites in Athens
Written by GreekBoston.com in About Athens, Greece, Greek Travel Guide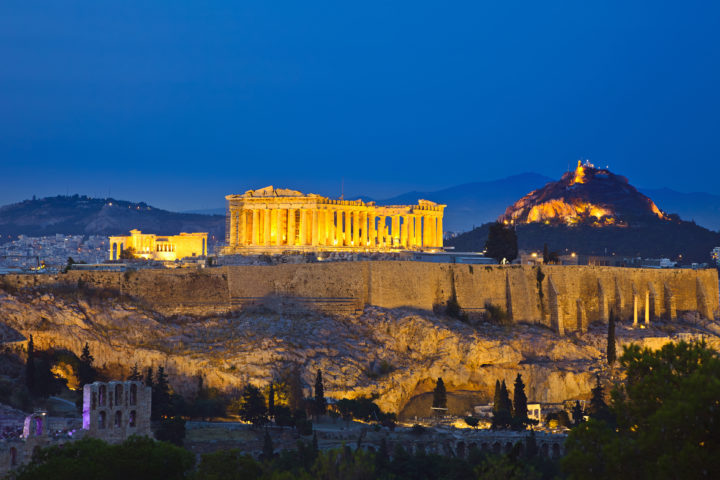 If you're going to visit the capital of Greece, it's necessary to spend some time seeing the famous archaeological sites from the Classical and Roman times. These are some of the top tourist attractions in the world that draw millions of people every year.
Here's just a sampling of the most important archaeological sites to see in Athens:
Acropolis
A trip to Athens isn't complete without a visit to The Acropolis, which is visible from almost everywhere in the city. It is considered by some to be the most important site in the Western World. The Acropolis was first inhabited in Neolithic times (4000-3000 BC) and the first temples were built during the Mycenaean era in homage to the goddess Athena. Major restorations continue at the Acropolis and many original sculptures have been moved to the Acropolis Museum and replaced with casts.
Acropolis Museum
The Acropolis Museum, an international museum of the 21st century, holds the surviving treasures of the Acropolis. It has a total area of 25,000 square meters with exhibition space of over 14,000 square meters. Construction of the current museum was completed in 2007. Constantinos Karamanlis first conceived it in 1976 but it wasn't until 2000 that Bernard Tschumi (a U.S. based architect) with Michael Photiadis (a Greek architect) and their associates were awarded with the design tender.
Agora
The Ancient Agora, located north of the Acropolis in Athens is often overshadowed by the Acropolis but for eight centuries was the primary meeting place of the city. The ancient marketplace was founded in the 6th century BC. It was at one time the heart of Athens and was the focal point of administrative, commercial, political and social activity. St. Paul preached here and Socrates addressed his public here as democracy was born. Socrates was later indicted and executed in the state prison here in 399 BC. Today the Ancient Agora is one of the top tourist attractions in Greece.
Kerameikos
Kerameikos is best known for its cemetery, which it was converted into because of the frequent flooding that occurred in the area. Statesmen and heroes were buried beneath showy tombs lining the roads from the 12th century BC to Roman times. It was rediscovered in 1861 and is now a tranquil site where visitors can wander among the marble tombstones.
Filopappos Hill
Filopappos Hill is the highest summit in the south of Athens at 147m and is known for its spectacular views of the Acropolis. It is identifiable to the southwest of the Acropolis by the Monument of Filopappos at its summit. The monument was built by the Athenians between 114 and 116 in honor of Gaius Julius Antiochus Filopappos, a prominent Roman consul and administrator.
Categorized in: About Athens, Greece, Greek Travel Guide
This post was written by GreekBoston.com
Like this article? Please share below: