Dining In Crete – Enjoying the Local Cuisine
Written by Greek Boston in About Crete Greece, Greek Travel Guide Comments Off on Dining In Crete – Enjoying the Local Cuisine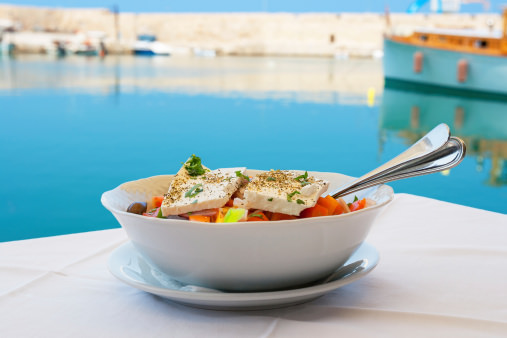 Crete offers tourists a lot of traditional Greek fare including an assortment of fresh fruits, cheeses, and the famous Greek yogurt. Additionally the island boasts some local cuisine that is a treat for both the locals and those visiting the islands. Due to the fact that Crete is surrounded by water, expect a lot of seafood dishes at restaurants on the island. If seafood isn't your thing, don't worry. Cretan cuisine has a lot to offer even to the pickiest of eaters.
While exploring the island of Crete, here are some local Cretan cuisine favorites to look for.
Crete is home to a variety of specialty and artisanal cheeses. These include Graver, a hard smooth cheese that is a blend of sheep's and goat's pasteurized milk. It isn't too sharp but does have a strong distinctive flavor. Another cheese primarily produced on Crete is Myzithra, a creamy white cheese. Mizythra, like Graviera cheese is made of either sheep or goat's milk. The cheese is soft curd cheese (similar to Italian Ricotta), is white in color and incredibly creamy. Due to the fact salt is not used to make Mizythra; it has a naturally sweet taste and is often used in baking. In fact, Mizythra is a main component in Bougatsa, one of Crete's famous pastries.
Bougatsa is a pastry famous in Crete, specifically in the city of Chania. The pastry is made by layering sheets of filo dough and then wrapping creamy custard filling (often made with Mizythra cheese), and baked. Bougatsa can be made with sweet semolina custard or savory fillings like minced meat. However for a true taste of Crete, opt for the Mizythra filled Bougatsa. After wrapping the cheese custard filling in the filo dough, the pastry is baked until golden brown and then dusted with cinnamon and confectionary sugar. Enjoy a Bougatsa for breakfast, a snack, or dessert. You'll be happy you did.
Olive oil is synonymous with Greece and Mediterranean cuisine. Cretan olive oil is well known on not only the island but across Greece, as it is heavier and richer than other varieties. Olive oil actually has historical ties to Crete. The Minoans, who inhabited Crete back in 2500 BC, first cultivated the olive tree. Over time, olive oil became a crucial component of the Cretan economy.
Another Cretan export with Minoan ties, there is historical evidence that the Minoans made wine on Crete as far back as 1600 BC. When the Romans took over the island, Cretan wine including a sweet wine called Protropos was exported to Italy. While on the island, take advantage of a variety of locally produced wines including Boutari Kritikos, a crisp white wine which complements the island's coastal cuisine perfectly. Crete also hosts its own spirit, and no it's not Ouzo. Tiskouthia is"firewater" made from fermented grape skins. More commonly referred to as Raki, the drink is served all day usually with a dish of raisins or walnuts covered in honey. Another dish served with Raki is Ravani, a farina cake. Boasting a strong anise-like flavor, Raki is often provided at the end of a meal for free by restaurants on Crete.
PLEASE NOTE: The Greek travel section at GreekBoston.com are not paid reviews. Our unbiased and informative travel articles are designed review the popular cities, islands and places in Greece. We are not always able to exactly match the photos to the destinations, but we do try to get close. However, we are not looking for photo submissions at this time. If you find something in a Greek travel article that is not accurate based on your personal experience, please send us an email to greekboston@worldwidegreeks.com and we will consider your suggestions. Thanks for reading the travel section at GreekBoston.com!
Categorized in: About Crete Greece, Greek Travel Guide
This post was written by Greek Boston
Share this Greek Travel Article: