Top 6 Experiences to Have While on Crete
Written by Greek Boston in About Crete Greece, Greek Travel Guide Comments Off on Top 6 Experiences to Have While on Crete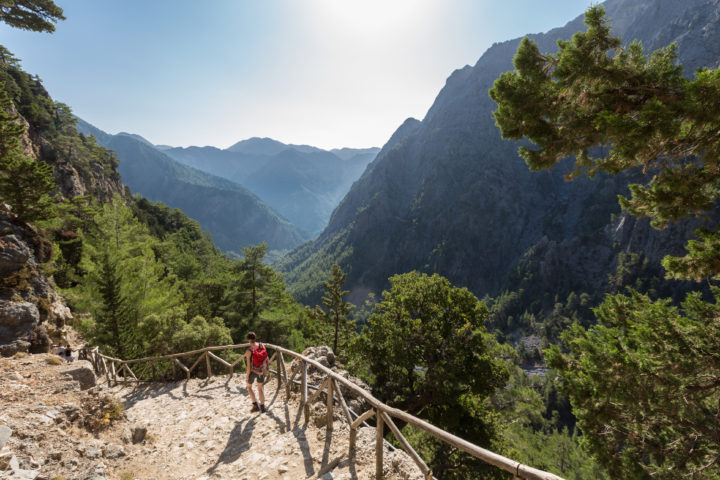 Crete is the biggest island in Greece, and as a result of this, there is so much to see and do. There are plenty of amazing beaches, gorgeous cities and villages to explore, and plenty of historical landmarks and museums to keep you busy while here. Whether the time you have to spend on the island is limited, or you are there for an extended stay, it can still be a challenge to find the right ways to spend your time.
There are some experiences, however, that you should prioritize. Here's a look at some of the best experiences to have while on Crete:
If you love hiking and beautiful scenery, you won't want to miss the chance to hike the Samaria Gorge. This is the longest gorge in Europe, and it is filled with stunning and spectacular views. The hike usually begins at the top. Once you make it down to the gorge, you will be treated to a long, flat walk with plenty of scenery. The hike empties into a village where there is a gorgeous, black sand beach. People typically board the ferry to head back to Chania.
The island of Crete is known for its Minoan ruins. The Minoan Civilization from early, Ancient Greece was surprisingly sophisticated and highly successful for hundreds of years, until it all came to an end. Most of the palaces remain standing in some form, although some are more intact than others. Knossos Palace was, by far, the most impressive of them. Although the palace is largely in ruins, it is an interesting site to visit.
If you are interested in the ruins of Crete, particularly of Knossos Palace, you won't want to miss this museum! Many of the artifacts found at the site of this palace, and other archaeological digs throughout the island, can be found here. This protects landmarks from being ravaged by the elements, and also from theft. This is a great place to get an overview of history of the island, as well.
Chania is an interesting and charming city on Crete that is absolutely wroth a visit. There's a lot to do here, ranging from visiting the old Venetian fortress, going for meandering walks through the streets, enjoying one of the area beaches, or eating a great meal. This is a nice place to spend some of your time!
There are so many great beaches on Crete, it can be hard to choose where to spend your time. Memorable beaches include Elafonissi, Matala Beach, Vai Beach, and more. There are memorable beaches located all over the island, and you can't really go wrong with any of them. Some are secluded and others have a good party vibe. It all depends on the type of experience that you want.
Are you looking for a good village to base your Cretan vacation on? Agios Nikolaos is a physically beautiful island that has a great, resort feel. There are some pretty beaches in this area, as well as some local landmarks to enjoy. You can easily spend your days lounging in the sun and seeing the sites.
While visiting the Greek island of Crete, you won't want to miss the chance to have these wonderful experiences!
PLEASE NOTE: The Greek travel section at GreekBoston.com are not paid reviews. Our unbiased and informative travel articles are designed review the popular cities, islands and places in Greece. We are not always able to exactly match the photos to the destinations, but we do try to get close. However, we are not looking for photo submissions at this time. If you find something in a Greek travel article that is not accurate based on your personal experience, please send us an email to greekboston@worldwidegreeks.com and we will consider your suggestions. Thanks for reading the travel section at GreekBoston.com!
Categorized in: About Crete Greece, Greek Travel Guide
This post was written by Greek Boston
Share this Greek Travel Article: