Things to Do in Kalavrita, Greece
Written by GreekBoston.com in About Kalavrita, Greece, Greek Travel Guide Comments Off on Things to Do in Kalavrita, Greece
Kalavrita is a town located in the mountains of Achaea, Greece. It's an area surrounded by greenery with a river nearby. During the summer, you're going to find it a hot destination, but if you visit during the winter, you're going to have access to the ski center. The area is picturesque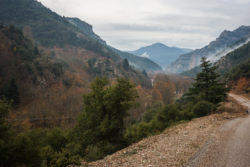 with the small squares, cafe's and taverns, and stone-built homes. Walking around and exploring this town won't disappoint.
If you're going to be visiting Kalavrita, Greece, you will have a variety of things to do, including:
Hit the Slopes
Kalavrita is well-known for its ski resort, which is just 15 km away from the town. There are eight lifts and 13 slalom of varying categories. This is the perfect activity for adults and children alike. At the resort you'll find restaurants and cafes. There is also parking available as well as ski equipment for rent. If skiing isn't your sport, you can snowboard or rent snowmobiles. This is a great place to spend time if you're visiting during the winter. The view of the sea won't disappoint either!
Visit a Monastery
Kalavrita is home to a few monasteries. One you won't want to miss is the Monastery of Mega Spilaio. This monastery is located 10 km from Kalavrita. Uniquely built into a rock, you will want to experience it up close and view it from a distance. It's a sight to see. The monastery was built in 362 AD by two brothers. Other monasteries you can check out are the Monastery of Makelaria and the Monastery of Agia Lavra.
Ride the Odontotos
The Odontotos rack railway is a unique attraction not just in Kalavrita, but all of Greece. This is the most narrow railway in the world. In service since 1896, this is a trip you won't want to miss. The ride from Diakofto to Kalavrita is filled with beautiful natural scenery. The train runs parallel to the river, through tunnels and bridges. Experiencing the Vouraikos Canyon from this vantage point will leave you in awe. If the train ride leaves you wanting more, you can hike the same route.
Visit the Cave of Lakes
The Cave of Lakes is another perfect spot for the nature lover. Inside this cave are actually cascading lakes at three different levels. The cave has a total of 13 lakes. Though only part of the caves is open to the public, it's easily accessible for both children and adults making it a great family sightseeing trip. When the snow melts after winter, this results in waterfalls in the caves. While photography isn't allowed inside the caves, you won't forget the experience.
Visiting Kalavrita, Greece will allow you experiences you won't find elsewhere. The landscape is unique, so don't forget to bring your camera. Whether you visit during the winter, summer, or in between, you're sure to find something that appeals to you. Kalavrita is full of history, nature, and great food.
Categorized in: About Kalavrita, Greece, Greek Travel Guide
This post was written by GreekBoston.com
Like this article? Please share below: