Greek Wedding Gift Traditions
Written by Greek Boston in Greek Wedding Traditions Comments Off on Greek Wedding Gift Traditions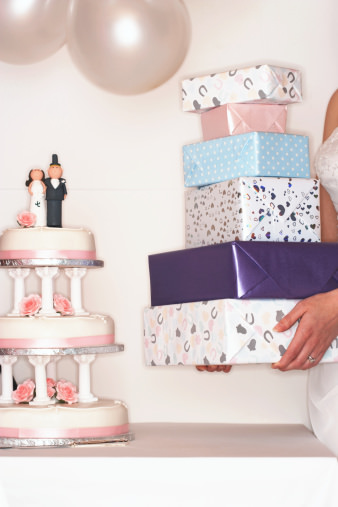 Greek weddings are rich in tradition and are usually large, celebratory affairs that begin with a traditional ceremony in a Greek Orthodox Church. Is this your first Greek wedding? If so, you may be wondering what kind of gift you are going to give for the wedding.
Before you make your choice, understand that a lot of Greek weddings that take place in the United States are Americanized. If this is the case, gifts you would give at any other wedding apply here. You may also choose to give a more traditional "Greek" wedding gift. This is especially important if the family is ultra traditional or if the wedding is taking place in Greece.
Give Money
No matter where the wedding is taking place or how traditional it is, money is always appreciated. In fact, there are documented cases of money gifts reaching back to Ancient Greece. If the wedding is ultra traditional, guests will pin money on the bride and groom during the reception. If not, you can simply tuck a check or cash inside the wedding card.
Some weddings do a "money pinning" ceremony at the reception, in addition to accepting gifts. Bring five and ten dollar bills with you just in case the wedding sticks to this tradition. You may not know in advance so it is best to be prepared.
Gifts of Food
You can also choose to bake traditional Greek breads or sweets to give as a gift. This is also a fairly traditional option. You can either do this as part of the gift or make it the entire gift depending on the situation. For a typical, large wedding that takes place in a reception hall in the United States, this probably won't be enough of a gift. However, it will make a nice accompaniment to cash or whatever else you may give them.
Some Greek weddings have a large pastry table set up either to accompany dessert or instead of the venue's offered dessert. If this is the case, you can volunteer to bring a traditional pastry or cake as part of your gift.
Greek Themed Jewelry
Another very common gift to give at a Greek wedding is jewelry. You can give something like a gold necklace, cross, or even a charm bracelet with a Mati (eye), which some Greeks believe can help prevent the Evil Eye. Other great gifts include necklaces or bracelets with Greek pendants (such as the popular Greek key pattern or a pendant of an historical site like the Parthenon) or a beautiful string of traditional worry beads.
Also, when in doubt, you should see if the bride and groom have registered anywhere. If so, then selecting an item from the registry will pretty much guarantee that your gift will be well received. If they do have a registry, chances are very good that their wedding is Americanized which means it will be fairly easy to select something overall. Any of the gift ideas listed above are great choices no matter how traditional the wedding is.
Categorized in: Greek Wedding Traditions
This post was written by Greek Boston