About Antiparos, Greece
Antiparos is an island in the Cyclades group in the Aegean Sea. The highest point of the island is St. Elias at 308 meters. Mt. Elias is in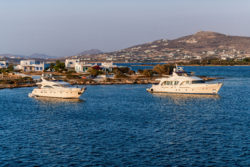 the middle of the island. The island of Antiparos is a volcanic rock. The climate is dry with high moisture, which creates strong winds. Flowers thrive on the island, but they are mainly the bougainvillea type (thorny ornamental vines, bushes, and trees) that adorn gardens, houses, and shops. Vegetation on the island is low. Like the other Cyclade Islands, Antiparos has strict regulations to preserve the uniformity of the islands. The houses are white with blue doors and windows. These common characteristics also include the stones and alleys of the neighborhoods and even the fences of the churchyards.
The first excavations made on the island were done by a traveller by the name of Theodore Bent in 1884. He would open 40 graves in two different cemeteries. These graves revealed Neolithic remains. In 1889, Christos Tsountas would excavate in Despotiko and discover Cycladic cemeteries. A Neolithic settlement would be excavated on the island during 1964 and 1965. During this excavation, stone foundations, pottery, and obsidian arrowheads were found. In 1959, excavations began at Mantra and Zoumparia on the northeast coast. At this location there were temples from ancient times, which were architecturally Doric, dating to 500 BC.
A major event on the island of Antiparos took place in 1794, when Mani and Kefalonian pirates came to the island and plundered it and then kidnapped the daughter of the Venetian ambassador.
During World War II, Agios George was used as a secret submarine base. Following the war, the area would become more peaceful and growing into a tourist village.
Administrative Region for Antiparos Island, Greece
South Aegean
Area of Antiparos Island, Greece
45.182 km2 (17.445 sq mi)
Population of Antiparos Island, Greece
1,211
Top Attractions in Antiparos Island, Greece
Cave of Antiparos – Located at Glifa, this old stalagmite cave is estimated to be 45 million years old. The most famous site on the island. The cave has a long and interesting history including being used as a refuge by Macedonian generals during the 4th century.
Glifa Beach – 4 km from Chora. This is the longest and busiest beach on the island. Glifa beach is surrounded by taverns, beach bars, and hotels.
Panagia Beach – 3 km south of Chora. A picturesque beach on Antiparos that offers great swimming and a peaceful atmosphere. Large trees provide natural shade.
Chora – On the north-eastern coast of Antiparos, you will find the main town and port. Most activities on the island take place in and around Chora. You can see the Venetian Castle surrounded by a fortress in Chora as well.
Soros Beach – 10 km south of Chora. This beach features trees for natural shade, blue crystalline waters, and nice sand. Soros beach is nudist friendly.
BELOW ARE INTERESTING ARTICLES ABOUT ANTIPAROS, GREECE: