Amazing Greek Street Foods You Can Make At Home
Written by Greek Boston in Greek Cooking Comments Off on Amazing Greek Street Foods You Can Make At Home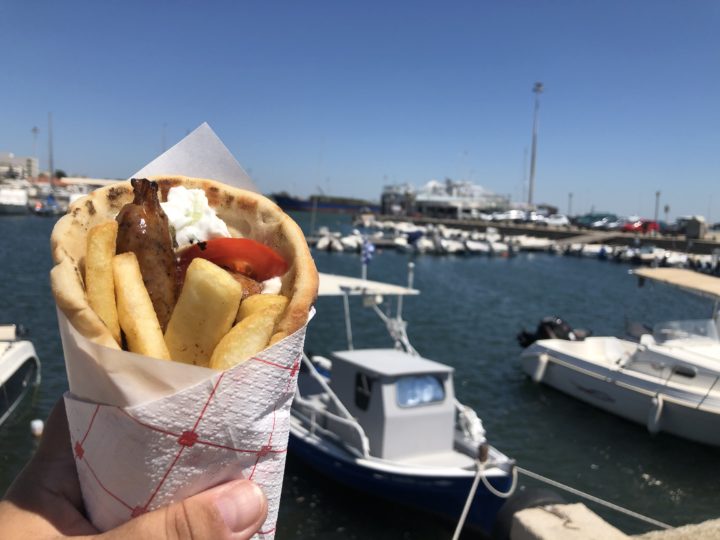 Part of the fun of visiting Greece is the amazing food that can be found throughout. Whether eating in someone's home, dining in a restaurant or taverna, or grabbing a quick bite at a cafe, you won't be disappointed by the abundance of delicious food.
One of the glorious gems of Greek cuisine that you won't want to miss is the street food. Created and sold by talented cooks throughout the country, the Greeks know how to take the simplest ingredients and form them into some amazing eats.
Here's a roundup of some of the best foods that can be purchased on the streets of Greece, but you don't need to travel there to enjoy them. You can follow our recipes to make them at home!
Souvlaki is a classic Greek dish that is made all over Greece. You can use any type of meat that you want for this, but pork and lamb are two of the most common ones you'll find in Greece. Cubes of high quality meat or poultry are marinated in a flavorful oil and lemon dressing, pierced through some skewers, and then cooked on the grill. You can buy sticks of this dish to munch on while you walk, and you can also order it in restaurants and tavernas throughout the country.
Possibly the most beloved of the Greek street foods, gyros are a classic. These are made from special gyro meat that has been cooked on an upright spit and then shaved. Gyros are composed using gyro meat, Greek pita bread, tzatziki, chopped onions, chopped tomatoes, and feta cheese. You can also opt to get them with a few Greek fries, if desired.
Ask anyone who has tried these, and they will tell you that Greek fries stand out from the fries that are located in other places in the world. Like most foods in Greece, only the highest quality ingredients are used. In this case, the fries get their flavor from the fresh potatoes, high quality olive oil, and Greek sea salt. Purists believe that using authentic Greek olive oil is the one thing you can do at home to make them taste as "Greek" as possible.
If you are hankering something sweet, you'll want to give Loukoumades a try! The key to making these taste as authentic as possible is to use pure Greek olive oil and to make sure you test the heat of the oil before dropping the dough in. Be sure to top yours with authentic Greek honey and crushed walnuts to give it an extra special taste.
Technically speaking, Koulouri can be made from just about any type of  bread dough. In Greece, the yeast dough is formed into small rounds and often topped with sesame seeds before baking. Before yeast was commonly found in Greece, other methods of leavening were used, such as baking powder or sourdough starter. It is also a common dish served at Easter and for those, the dough is a little sweeter.
Bougatsa is another delicious dessert that is commonly found throughout Greece. This holds some similarities to galaktoboureko, but bougatsa's custard filling tends to be softer and creamier and the dessert isn't typically doused with syrup. Rather, the top is commonly sprinkled with confectioners' sugar.
Spanakopita, or spinach pie, is another common street food in Greece. When spinach isn't available, other edible greens are used. Although you can make this dish in a variety of different forms, such as in a baking dish, the most common form that you'll find on the Greek streets are the triangles.
This Greek classic is incredibly common in Greece. It's served throughout the country and is one of the most popular quick grabs, especially for breakfast. Tiropita is also something that is commonly made at home. The type of cheese may differ depending on where you are in Greece, but our version contains ingredients that are easily found outside of Greece.
These foods are commonly found on the streets in Greece, but you can make them at home!
Categorized in: Greek Cooking
This post was written by Greek Boston
Share this Greek Cooking Article: