Best Gyro Variations to Try
Written by Greek Boston in Greek Cooking Comments Off on Best Gyro Variations to Try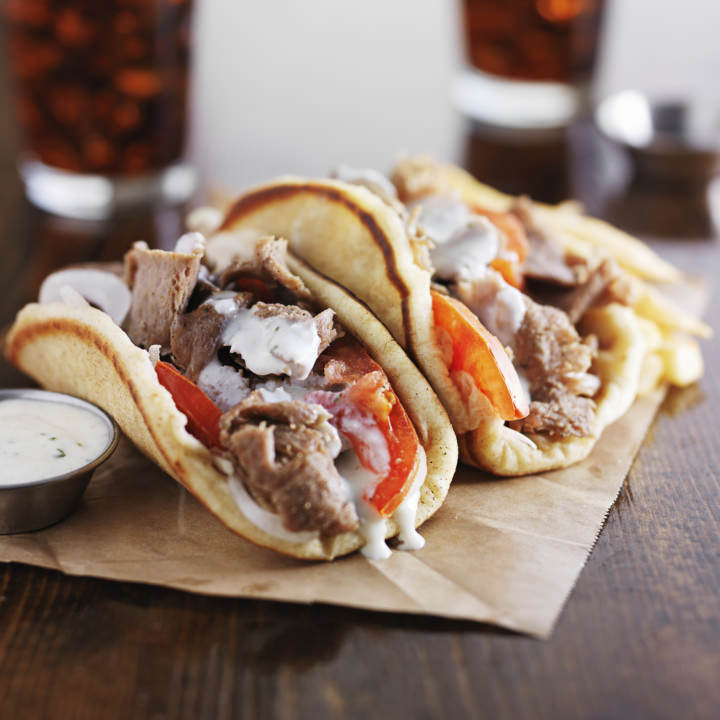 There are two schools of thought when it comes to gyros. Purists believe that only a certain combination of ingredients is acceptable. You start with gyro meat that has been shaved off of the rotisserie. Usually, this is lamb or pork or a combination of the two. Then you place it inside of a Greek style pita and add the rest of the ingredients. It is then topped with traditional ingredients, like tzatziki, diced tomatoes, chopped onions, and maybe a few Greek fries.
However, there are also those who love experimenting with this concept by trying different combinations. Here are a few variations of Greek style Gyros you may want to try:
Greek style grilled chicken, such as chicken souvlaki, which is skewered, makes for a pleasant gyro variation. It is also more common than people realize, as it is even possible to find grilled chicken gyros in Greece. For those making gyros at home, it makes the gyro even more accessible, since grilled chicken is such a popular dish.
When you make these sausage gyros, the possibilities are nearly limitless. You can use any kind of sausage that you want, but if you want to keep the flavors authentically Greek, you should use Greek sausage, also known as loukaniko. Although loukaniko recipes do differ according to the region of Greece or the individuals who make them, the flavor profile is similar. Typically, the meat is spiced with coriander, fennel seed, oregano, and black pepper. Some variations use fennel bulb instead of the seed, as well as orange peels. They all taste great in a gyro.
Traditionally, gyros are made with tzatziki, a tangy Greek yogurt dip, as its main condiment. If you want to experiment with different flavors, an easy way to do this is to substitute the tzatziki for hummus! The flavor is a little different, but the hummus still complements the gyro meat nicely. For an extra special gyro, consider making the hummus from scratch.
Gyros are not typically vegetarian friendly. However, this variation is! Instead of meat, this gyro is stuffed with fried eggplant, which has a hearty texture. Some people make the mistake of simply omitting the gyro meat and leaving the vegetables when preparing vegetarian gyros. Although that can be delicious, it is a much better treat to use fried eggplant.
There are two ways you can prepare these Greek salad gyros. If you are a vegetarian, consider omitting the gyro meat. If you love gyro meat and are just looking for something different, this gyro recipe is worth trying. You can substitute the gyro meat for other meats, such as chicken, if you want to change things up even further.
If you need a change from meat, you can also try these fried fish gyros. Crispy, fried fish is stuffed into this traditional sandwiches, but the rest of the fillings are the same. You can also consider substituting the tzatziki for tarter sauce, which will give it a distinct flavor more reminiscent of an American-style fish sandwich. It is a cross between the two.
If you are looking to try something different the next time you eat gyros, consider one of these variations.
Categorized in: Greek Cooking
This post was written by Greek Boston
Share this Greek Cooking Article: