Best Greek Summer Vegetable Dishes
Written by Greek Boston in Greek Cooking Comments Off on Best Greek Summer Vegetable Dishes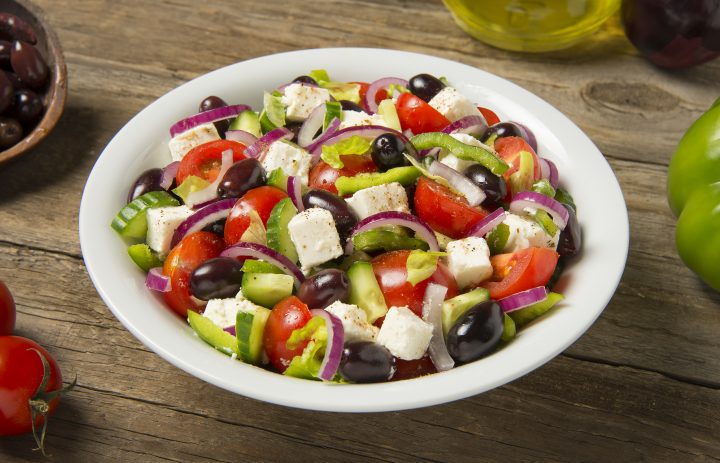 In the summer, fresh vegetables are front and center in Greek cuisine. The Greek people eat with the seasons, and in the summer, more vegetables are in season than any other time of year. In some parts of Greece, the growing season is year round, but vegetable choices do vary depending on the time of year. For example, on the island of Crete, fresh greens are looked at as a winter crop, and other vegetables, like cucumbers, are common in the summer.
The growing seasons vary throughout Greece, however, there are some constants. These are some of the most popular vegetable dishes that are commonly found on the Greek table in the summer:
The best time to pick grape leaves is in the late spring or early summer. If you wait too long, the leaves will be tough and bitter, and they won't taste as good as they could and picking them too late may also harm the plant. If you wish to harvest the grapes, it is best to pick the leaves early in the season. You also don't want to pick too many, or else you may kill the plant entirely. When you do pick the fresh leaves, this is the best time to make your stuffed grape leaves, or dolmades.
The traditional, beloved Greek salad that everyone associates with Greece is best served in summer when everything is in season. Vine ripened tomatoes, crunchy cucumbers, delicate onions, and flavorful bell peppers are common in this dish. Known as horiatiki, or Greek village salad, the dish wouldn't be complete without Greek olives, a generous hung of feta cheese, olive oil,  and a sprinkling of Greek oregano.
Known as fasolakia, Greek green beans in tomato sauce are a summertime staple. It's best when made with both fresh green beans and fresh tomatoes, but canned tomatoes, tomato paste, or tomato sauce work great. If you don't have access to fresh green beans, consider making this dish with frozen green beans, which are usually frozen after the beans are freshly picked.
One of the best treats of the summer is to pick fresh zucchini right off the vine, slice them thin, dust the rounds in flour, and fry them in olive oil. There's something magical about the way this dish tastes when the zucchini is ultra fresh. Sure, you can cook this anytime of the year, but it really is a special treat in the summer with garden fresh zucchini.
Summer vegetables are just begging to be roasted! The fun of a dish like this is that you  can use whatever you have on hand. The best combinations are those that use the freshest, most in season vegetables that you can get your hands on. Zucchini, eggplant, tomatoes, onions, and other in-season vegetables are the perfect choices and all roast up nicely.
Vegetables are often the stars of Greek cuisine. These dishes will help you prepare them in a way that is extra delicious.
Categorized in: Greek Cooking
This post was written by Greek Boston
Share this Greek Cooking Article: