Best Greek Dessert Recipes to Eat During Christmas
Written by Greek Boston in Greek Christmas Traditions, Greek Cooking Comments Off on Best Greek Dessert Recipes to Eat During Christmas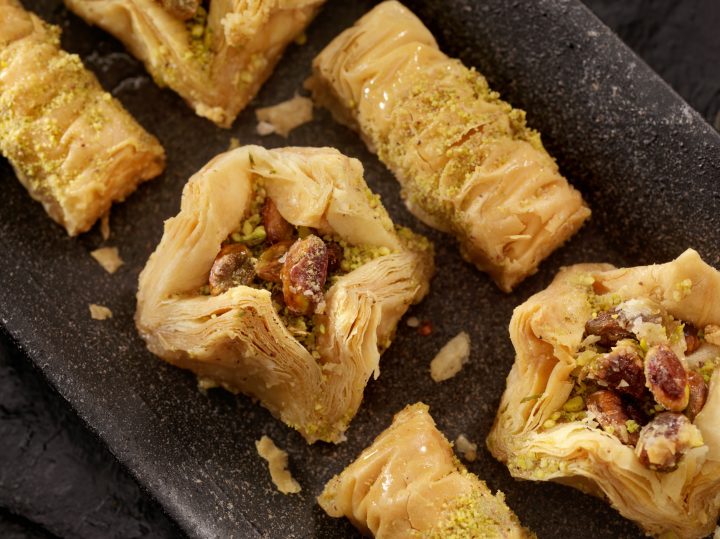 Christmas is a fairly big holiday in Greece, especially since the majority of the people in the country are Orthodox Christians. There are many traditions in place surrounding this holiday, including singing traditional Christmas songs, attending church, and eating certain, special occasion dishes. Mostly, it is time for families to spend valuable time together, enjoying all that the holiday has to offer.  After the Christmas meal, it is customary to serve traditional Greek sweets.
Here's a look at some of the Greek Christmas desserts to try:
Melamacarona are actually considered the Greek Christmas cookie. People all over the world enjoy this special, sweet cookie and identify it as the "official" Christmas cookie. Everyone has their own way of making it, and our version follows some of the main traditions. In our version, we use a good amount of Greek olive oil, traditional spices, as well as authentic Greek honey, if you can find it. If not, feel free to use any honey you have on hand.
This traditional bread is a special treat that is usually served during the Christmas meal. It is a sweetbread and has a soft consistency. It is similar to the traditional Greek bread that is served at Easter, also known as tsoureki. However, the Christmas version of the traditional "special occasion" bread has a different flavor profile. Our version is sweetened with anise, but feel free to substitute for mahleb or even orange peels instead, if desired.
Often thought of as a special occasion cookie, these shortbreads are often found on the Christmas table. made with butter, flour, vanilla, and plenty of confectioners' sugar, these cookies have a light and decadent texture and flavor. Our version uses vanilla extract, but feel free to substitute that for the vanilla sugar that is often used in Greece. In some parts of Greece, you may notice that this cookie is often made from crushed almond meal instead of flour.
Baklava is a classic Greek dessert, and it makes an excellent addition to the Christmas feast. In some parts of Greece, such as in Evros, the Christmas version of baklava is often made from different ingredients. For example, sesame seeds are often used instead of walnuts. Our version uses walnuts, sugar, and warming spices like cinnamon. It is finished with a sweet syrup made from honey and sugar.
Koulourakia is one of those desserts that is great any time of year! It tastes especially good when dipped in liquid, such as coffee and even wine. It makes a good accompanying dessert during Christmas because it has a nice, universal appeal. Our version uses plenty of butter and has a nice, festive flavor with the addition of the orange flavoring.
This dessert provides a nice alternative to some of the other desserts mentioned here. The creamy custard, phyllo, and sweet syrup make this dessert especially suited for the Christmas feast. It is also a nice alternative to baklava, which has a different texture. The creaminess of the custard is what makes the dish truly special.
You can't go wrong by serving any of these Greek desserts with your Christmas dinner!
Categorized in: Greek Christmas Traditions, Greek Cooking
This post was written by Greek Boston