Our Favorite Greek Beef Recipes
Written by Greek Boston in Greek Cooking Comments Off on Our Favorite Greek Beef Recipes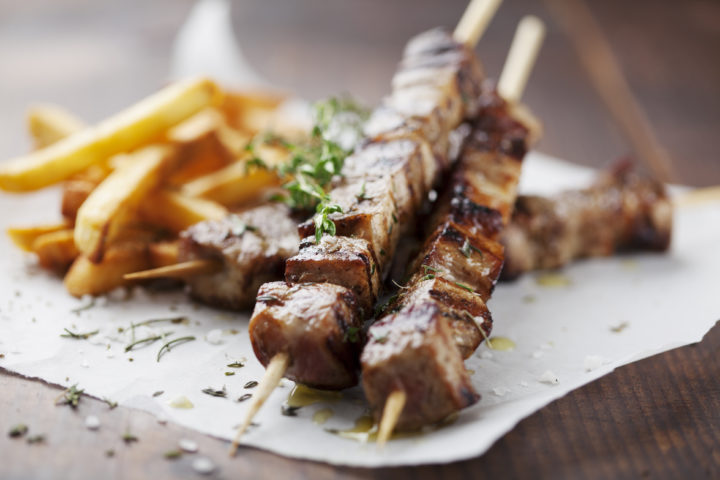 Beef isn't the most popular meat in Greece, but it can be found occasionally. However, beef is found abundantly in other countries throughout the world, such as the United States. In these countries, you will also see popular Greek dishes, like Kapama and Souvlaki, adapted to accommodate this meat.
So, what are our favorite Greek Style Beef dishes that you can cook? Each of these dishes offers something unique. Here's a roundup of the best we could find:
Called "Moshari Kokkanisto" in Greek, this "reddened" beef stew gets its reddish tint from the red wine that is used in the cooking process. The red color is further solidified by the use of Greek tomato paste. This flavorful stew is made any time of the year, but it is most popular during the colder months of the year.
Kapama is another type of stew that you can make. You can actually use the "kapama" technique to make stews using other meats, such as lamb, pork, and even chicken. This version, however, uses cubed beef and is slow-cooked to make it tender. There are other unique ingredients in the stew to give it a rich flavor, such as strong, dark coffee and Metaxa, or Greek Brandy.
Also known as kithraki, this special type of casserole is baked in a large dish and is seasoned with a bit of traditional Greek ouzo. Rich and flavorful, the ouzo imparts its distinct anise flavor on the meat, giving it a unique flavor profile. This is a dish that can be served year round, but because of the rich flavors, is best suited for the colder months of the year.
Traditional Greek souvlaki is one of the more common meat dishes served in the warmer months because it can be cooked outside on the grill. No matter what kind of meat you use, the method is always the same. You marinate the meat in ladolemono, and then you pierce it onto skewers before grilling. You can alternate the cubes of beef with cut peppers and onions, if you like, to boost the flavors.
Are you looking for a simple beef dish to put together? These country steaks might be what you are looking for! These delicious steaks are rubbed with an aromatic blend of spices and then seared in a hot pan to brown them and seal in the juices. From there, they are baked in the oven until cooked to perfection. You'll want t give these a try for your next meal!
Even though beef isn't commonly found in Greece, you can certainly adapt some of the popular dishes that use a meat like pork and lamb. There are also some delicious dishes that specifically call for beef, such as the Country Beef Steaks. When it comes time to prepare your next meal, you can't go wrong with any of these!
Categorized in: Greek Cooking
This post was written by Greek Boston
Share this Greek Cooking Article: