About Theseus of Greek Mythology
Written by Greek Boston in Greek Mythology Comments Off on About Theseus of Greek Mythology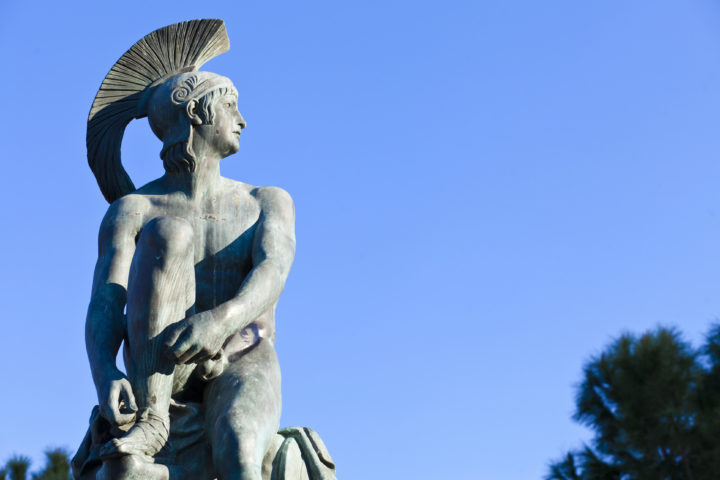 We tend to associate the Greek mythological stories with the gods, goddesses, and other mythological creatures. However, there are also some mortals who have become part of the tales, especially some of the main heroes.  Theseus was a Greek of early Athens who was known for his courage and his leadership skills. Here's more information about him:
Who Was Theseus?
Theseus was a mythical hero given credit for the formation of Athens as a Greek civilization. The stories of his exploits have come down to us for centuries to amuse and inspire as only mythos can do. Theseus may actually be based upon a Bronze Age King who brought his people together and made them stronger, similar to King Arthur and his legacy. Theseus had for his parentage Aethra the daughter of King Aegeus and either Aegeus himself as his father or Poseidon, the god of the seas. His immortal heritage is a standard characteristic of many Greek heroes and helps to explain his drive, exploits, and continuing legacy.
Theseus had to claim his royal birthright and along the way of his travels (his mythic hero's journey) prove his strength, valor, sense of justice, and intelligence in defeating barbaric threats to civilized people represented through the Six Labors. In each, he met and conquered some vicious assailant who had regularly bested and destroyed many other travelers. Theseus, however, bested them all.
What are the Stories Associated with Him?
The most famous story concerning Theseus follows his dramatic arrival in Athens. Once he was an acclaimed as the son of Aegeus, his greatest trial lay ahead. When Athens fell to Minos in battle, every nine years seven Athenian boys and seven Athenian girls were taken to Crete. Here they were sent into the Labyrinth designed and built by Daedalus (he of the waxen wings) where they were eaten by the man-bull known as the Minotaur.
Theseus, true to his heroic nature, joined the youths on the next dreadful foray. He met and gained the assistance of Ariadne the daughter of King Minos. She gave him information and tools that helped him in his quest. Using the string she gave him and following her instructions, Theseus reached the depths of the Labyrinth where he gave great battle to the monster. Defeating it, he escaped the island with all the other youth and some of Mino's daughters as well.
He also provides one of the ancient stories of deep friendship in his adventures with Pirithous. His ship reportedly stood in the harbor of Athens as a continuing reminder of his heroic deeds and to honor Apollo. He may have even been involved with the Argonauts, one of the greatest heroic journeys of Greek literature.
Greek mythology was one of the earliest forms of both literature and belief systems that mankind had to build with. Entire cultures, political systems, and philosophies owe their heritage to the Greeks and their mythology. They also serve as great heroic stories.
Source:
Categorized in: Greek Mythology
This post was written by Greek Boston
Share this Greek Mythology Article: