Recipe for Greek Style Parsley Spread
Written by Greek Boston in Authentic Greek Food Recipes, Recipes for Greek Appetizers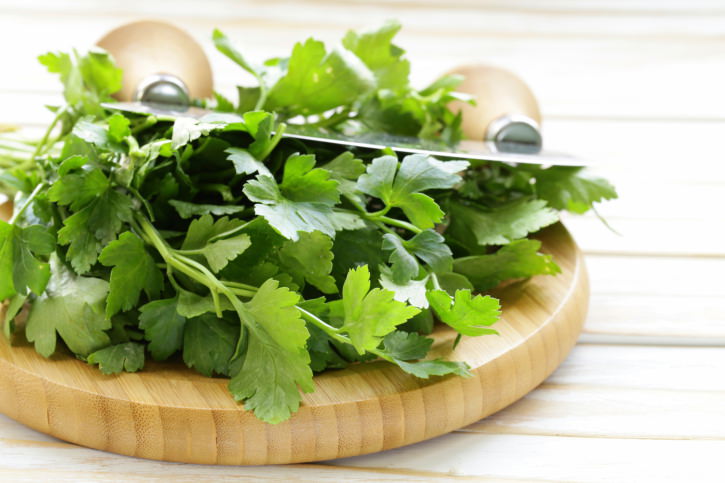 Maidanosalata is a delicious parsley spread that you can serve as an appetizer or snack all year round! All you need is a food processor to make sure all the ingredients are blended together properly.
Greek Style Parsley Spread (Maidanosalata) Recipe Ingredients:
1 thick piece of bread (1 inch thick), crusts removed, soaked in water
1 medium, quartered onion
2 – 3 cloves garlic
1/3 – 1/2 teaspoon, fresh minced chili pepper
1 lb., flat leaf, stems trimmed parsley
1 (optional) egg yolk
Lemon juice (3 tablespoons)
1/3 cup olive oil
1 – 2 teaspoons, balsamic vinegar
Salt
Olives for garnish
How to Prepare Greek Style Parsley Spread:
Squeeze the soaked bread to remove excess water. Discard any hard parts, and place half the bread in a food processor with the onion, garlic, chili pepper, and half the parsley. Process until everything is reduced to a paste. Add the remaining parsley and bread to the lender along with the egg yolk, half the lemon juice, and half the olive oil. Blend again, slowly adding more olive oil, 1 teaspoon vinegar, and some salt. Taste and adjust the seasoning by adding more salt, pepper, and lemon juice or vinegar. The spread should be very flavorful.
Pour the spread into a bowl and garnish with olives. Maidanoslata is a great dip so feel free to bust out the pita chips or carrot slices!
PLEASE NOTE: Greek recipes can be slightly different based on a variety of reasons, such as the region of Greece that the recipe is being made in. If you have seen this Greek recipe made another way, please send us an email to greekboston@worldwidegreeks.com and we will evaluate your suggestion. Thanks!
Categorized in: Authentic Greek Food Recipes, Recipes for Greek Appetizers
This post was written by Greek Boston