St. Onesimus Orthodox Saint History and Name Day Information
Written by Greek Boston in Greek Orthodox Religious Information Comments Off on St. Onesimus Orthodox Saint History and Name Day Information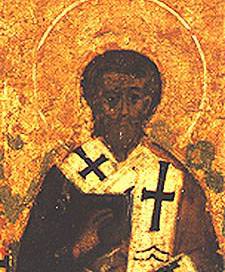 There are different types of saints in the Orthodox Church. There were the Twelve, the Seventy, and other saints that came about later on in church history. Each of these individuals showed their love for Christ and made a positive impact on the church. These saints are so important that their lives are celebrated throughout the year during their fest days.
Saint Onesimus is one of those saints. He is considered to be one of the Holy Seventy Apostles, which means that they are amongst those that Jesus personally chose to spread the word on who he really is. His feast day is celebrated each year on February 25th and again on January 4th with the rest of the Seventy. Those who are named after him would celebrate their name day on February 25th. Here's more information:
About Saint Onesimus
Saint Onesimus started his life as a servant of the Apostle Philemon. He lived in Phrygia in a city named Colossae, which at the time was part of Anatolia, or modern-day Turkey. Philemon was especially known for being a distinguished and devout Christian and as a result, his beliefs trickled down to Onesimus.
At one point during his servitude, he committed an offense against Philemon and rather than face his punishment, he fled to Rome. Eventually, he was sent to prison in Rome because he illegally ran away from his master. Although he had exposure to the Christian faith because of Philemon, it wasn't until prison that he became baptized as a Christian. He encountered the Apostle Paul during his imprisonment, learned about the Christian faith from him, and eventually became baptized.
Onesimus served the Apostle Paul with the devotion of a son, and the two had a close relationship. Paul knew Philemon and he wrote to him from prison asking Philemon to forgive Onesimus and accept him as a brother. Philemon did, in fact, forgive him and sent Onesimus back to Rome to be with he Apostle Paul. Philemon was eventually consecrated as a bishop and Onesimus continued to serve the Apostles, even after Paul's death. Onesimus eventually became a bishop, as well.
Hymns of Saint Onesimus
Saint Onesimus is one of the Holy Seventy Apostles whose work it was to spread the Good News of Christ. There are some hymns about him that sung on his feast day. Here are the hymns, as translated into English.
Troparion (Tone 3)
Holy Apostle Onesimus,
Entreat the merciful God,
To grant our souls forgiveness of transgressions.
Kontakion (Tone 4)
Like a beam of light you shone on the world,
Illumined by Paul, the all-radiant sun, whose rays enlighten the world.
Therefore we honor you, glorious Onesimus.
As you can see, Saint Onesimus is important to the church and is on of the Holy Seventy Apostles. His feast day is celebrated on February 25th and he is celebrated again with the rest of the Seventy on January 4th. Check the Name Day page for more information about other Orthodox Christian name days.
Sources:
Apostle Onesimus of the Seventy – Also Image Source
OrthodoxWiki – Apostle Onesimus
OrthodoxWiki – Seventy Apostles
Categorized in: Greek Orthodox Religious Information
This post was written by Greek Boston