St. Spyridon Orthodox Saint History and Name Day Information
Written by Greek Boston in Ancient Greek History, Greek Orthodox Religious Information Comments Off on St. Spyridon Orthodox Saint History and Name Day Information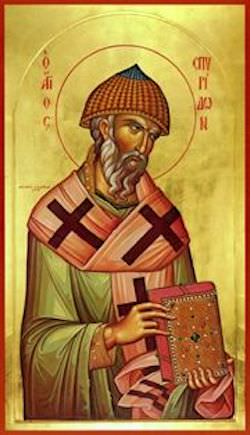 The lives of the saints are important to Greek Orthodox Christians. They learn about the saints, celebrate their feast days in church, and some of them are even named after the saints. Those who are named after them celebrate their name day on the saint's feast day. Saint Spyridon is one of those saints and there are many Orthodox Christians who are named after him. Those who are named after him will celebrate each year on December 12th. Here's more information about his life and works:
About Saint Spyridon
Saint Spyridon, also referred to as Spyridon of Trymithous or Spyridon the Wonderworker of Trymithous, is on of the saints in the Orthodox Church whose feast day is celebrated each year. He was born in Cyprus and although he spent most of his life on this island, he is strongly associated with the Greek island of Corfu where his remains can still be viewed today. People flock to the island from all over the world to catch a glimpse of his remains and to pray at the monastery where he will always be remembered.
During his life, he was known for his strong defense of the Christian faith. He was a bishop of the early church and was a participant at the Council of Nicaea. He was born in a village called Ashia on the island of Cyprus. He was a shepherd and he eventually married and had a child. His wife died and this left him and his daughter alone. Upon her death, they both entered into a monastic life together. Over time, he became a priest and eventually a bishop.
While at the Council of Nicaea, it is said that he met and formed a friendship with Saint Nicholas. He also defended the faith against Arianism and defended the Holy Trinity. He explained the trinity by holding up a brick and when he did so, the brick was said to have burst into flames.
Hymns of Saint Spyridon
There are some hymns that can be found in the Orthodox Christian church service that celebrate Saint Spyridon. Here are the details:
Troparion — Tone 1
You were revealed as a champion of the First Council / and a wonderworker, our God-bearing father Spyridon. / You spoke to one dead in the grave / and transformed a serpent into gold. / While chanting your holy prayers / you had angels serving with you! / Glory to Him Who gave you strength! / Glory to Him Who granted you a crown! / Glory to Him Who through you grants healing to all!
Kontakion — Tone 2
Wounded by the love of Christ, / all-holy one, your mind was given wings through the light of the Spirit, / you found work in active contemplation, God-pleasing Spyridon, / becoming a divine sacrifice, / and imploring divine illumination for all.
Saint Spyridon feast day is celebrated each year on December 12th. Check the Name Day page for more information about other Orthodox Christian name days.
Source:
GoArch.org – Spyridon the Wonderworker
OrthodoxWiki – Spyridon of Trimythous (Also Source for Photo Credit for Image Above)
Categorized in: Ancient Greek History, Greek Orthodox Religious Information
This post was written by Greek Boston