St. Thomas Orthodox Saint History and Name Day Information
Written by Greek Boston in Ancient Greek History, Greek Orthodox Religious Information Comments Off on St. Thomas Orthodox Saint History and Name Day Information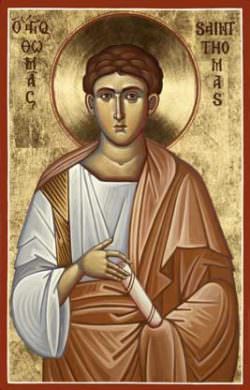 It is true that in the Orthodox Christian Church, people take their name days very seriously. At the root of these special days is the fact that Orthodox Christians are actually named in honor of one of the saints. The Apostle Thomas, also referred to as Saint Thomas, is one of the individuals whose feast day we celebrate each year. He lived a life preaching about Christ and he was eventually martyred.  His feast day is on October 6th of each year. Here's more information about Saint Thomas, also referred to as the Apostle Philip:
Early Life of Saint Thomas
Saint Thomas was born in Galilee, which was located in modern-day Israel but at the time of his birth was part of the Roman Empire. Since he was one of the original Twelve Apostles, we know that Saint Thomas was alive during the time when Christ was on the earth, which was in the 1st Century A.D. However, the exact date of his birth is unknown.
Thomas Follows Christ
Thomas began to follow Christ early on and it is said that after he heard about the good works Jesus was performing, he began to follow him. He became one of his disciples and was present during many key moments in the New Testament. However, one of the things that he is most known for is the fact that he had doubts after he heard that Christ was resurrected from the dead, which is why he has been given the nickname of, "Doubting Thomas."
According to John 20:25 Thomas said, "Unless I see in His hands the print of the nails, and put my finger into the print of the nails, and thrust my hand into His side, I will not believe." When he saw Jesus for the first time after the Resurrection, Thomas immediately knew Christ and that He had risen from the dead.
After the Ascension of Christ, Thomas began his ministry. He spent the whole time in India, which is where he eventually lost his life and became a martyr. Today, we celebrate his feast day on October 6th.
Hymns Related to Saint Thomas
There are a few hymns that are sung in honor of Saint Thomas during the Orthodox Christian church service. Here's a look at what they are:
Troparion (Tone 2)
You were a disciple of Christ
And a member of the divine college of Apostles.
Having been weak in faith you doubted the Resurrection of Christ.
But by feeling the wounds you believed in His all-pure passion:
Pray now to Him, O all-praised Thomas to grant us peace and great mercy.
Kontakion (Tone 4)
Thomas, the faithful servant and disciple of Christ,
Filled with divine grace, cried out from the depth of his love:
You are my Lord and my God!
Saint Thomas's name day is on October 6th of each year. Visit the Name Day page for more information about other Orthodox Christian name days.
Sources:
Orthodox Wiki – Apostle Thomas (Also Source for Photo Credit for Image Above)
Wikipedia – Thomas the Apostle
Categorized in: Ancient Greek History, Greek Orthodox Religious Information
This post was written by Greek Boston