An Aerial View of Athens
Written by GreekBoston.com in About Athens, Greece, Greek Travel Guide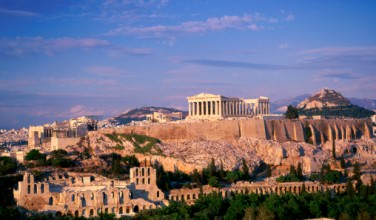 If it's one thing you notice about Athens, whether from the airplane or from the streets itself, the city is big. The days of Athens being a smaller town around the Acropolis have long passed. Today the city, its port [Piraeus], and all of its suburbs may just be the textbook definition of urban sprawl. In its 7,000 years of history, especially the last 3,400, Athens has frequently had its ups and downs. Spectacular growth and prestige have given way to periods of decline and loss of importance. Today's sprawling Greek capital is the product of its re-emergence as an important Greek city since Greece's independence from the Ottoman Empire in the 19th century.
As is the case with many of the great ancient cities, Athens is said to been built on seven hills. Coincidentally, most of these hills offer unparalleled views of the ancient city that are second to none and are sure to take your breath away–figuratively and literally.
The seven hills of Athens are the Acropolis, Mount Lykavittos [sometimes Anglicized to Lycabettus], Philopappou [also called the Hill of the Muses], Areopagus Hill, Hill of the Mynx, Hill of the Pynx, and Anchesmos [today called Tourkovounia]. These hills help to define Athens geography, and are prominent features of the Athenian landscape. So here is a brief overview of my top picks, stay tuned for full debriefs to help see the best of the city of Athena.
1. Areopagus Hill
The Areopagus [Grk: Άρειος Πάγος] translates to "Ares Rock" and is located just adjacent to the entrance up the Acropolis. The Areopagus hill offers incredible views of the nearby Acropolis hill and gives a good scale of the fortifications built on top of the rock itself
2. Philopappou Hill
Philopappou Hill [Grk: Λόφος Φιλοπάππου] also known in ancient times as the Hill of the Muses is adjacent to the Acropolis as well as the Areopagus. The view of the Acropolis and Parthenon from the top of Philopappou is arguably the very best in the city.
3. Mount Lykavittos
Mount Lykavittos [Grk: Λυκαβηττός] rises straight out of the center of Athens and is completely surrounded by the city. It is one of the highest points in the city, and it offers views that are 'above the rest'.
4. The Acropolis
The Acropolis of Athens [Grk: Ακρόπολη Αθηνών, or just Ακρόπολη] is famous worldwide for one of the most recognized buildings in the world–the Parthenon [Παρθενώνας]. The Acropolis is and has historically been the center of the city. Since it is the central landmark, it is the best vantage point to see the city of Athens in its entirety.
5. Tourkovounia
The Tourkovounia [Grk. Τουρκοβούνια] translates as the Turkish Mountains. It is the highest hill in the city of Athens. While this hill is not located as close to the center as the others, its height gives some of the most sweeping views of Athens.
Categorized in: About Athens, Greece, Greek Travel Guide
This post was written by GreekBoston.com
Like this article? Please share below: