What to Do in Epidaurus, Greece
Written by GreekBoston.com in About Epidaurus, Greece, Greek Travel Guide Comments Off on What to Do in Epidaurus, Greece
Epidaurus is a small city located on the northeastern side of Peloponnese. The region is surrounded by greenery and inland you will find orange and lemon trees that fill the air with their aroma. Epidaurus is home to beaches, lovely villages, good food, shopping, and historical sites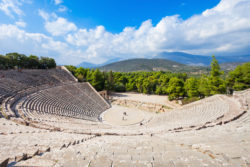 making it a good choice to visit if you're looking to explore a bit of everything.  There is no airport in the area of Epidaurus, but the International Airport of Athens is the closest. From there you can rent a car or take the bus to Epidaurus.
Here's what you can do when visiting Epidaurus, Greece:
Visit the Ancient Theatre
When visiting Epidaurus, the Ancient Theatre is a must-see. It is located at the Ancient Site and is considered one of the most well-preserved theatres throughout Greece. The theatre was built during the late 4th century BC. The theatre could seat 15,000 and thanks to the amazing acoustics, the actors could be heard well by all. Excavations in 1881 would reveal the Ancient Theatre, which was hidden for centuries. There is also the Little Theatre, which is located in Nisi near the port of Palea Epidaurus. This theatre was discovered in the 1970s. It seat about 2,000 spectators. Today, the Little Theatre is host to the annual Greek Festival during the summer.
Relax on the Beach
In Epidaurus you will find Epidaurus Palia Beach. This beach is located near the Ancient Theatre, so it makes a great spot to relax after exploring the ruins. Pine trees surround the beach, adding to the ambiance. The environment around the beach remains mostly untouched by modern amenities, so you can sit there and know you're experiencing the same view and surrounding area as it was centuries before. There are a couple of restaurants nearby when you're ready for a bite to eat. Take time to enjoy the scenery, cool off in the water while swimming, and walk the area.
Explore the Villages
There are two villages you can explore when visiting Epidaurus. Ancient (Palia) Epidaurus is a seaside village located 15 km from the Ancient Site. Ancient Epidaurus was a main city of Argolida. Its position allowed it to be strategic. Visitors to the village notice how similar the area is to how Homer described Epidaurus. Time has not changed the area as much as you might expect. Nea Epidaurus Village is located 7 km north of Palia Epidaurus at the foot of Mount Akros. The village with its cottages and narrow alleys was built on the slope of Mount Akros, which provides residents with a gorgeous view. Also located in Palia Epidaurus you will find the Gorge of Vothila, which offers a unique landscape of its own.
If you love history, Epidaurus should be on your list of places to visit. In addition to the ruins, the landscape remains almost untouched, allowing you a view into the past. Aside from the historical sites, there are places to relax, eat, and explore.
Categorized in: About Epidaurus, Greece, Greek Travel Guide
This post was written by GreekBoston.com
Like this article? Please share below: